With a month to go until the 2015 Sunshine Coast Real Food Festival, organisers have unveiled a festival program rich with food experiences, inspiring presentations and a celebration of the region's food producers.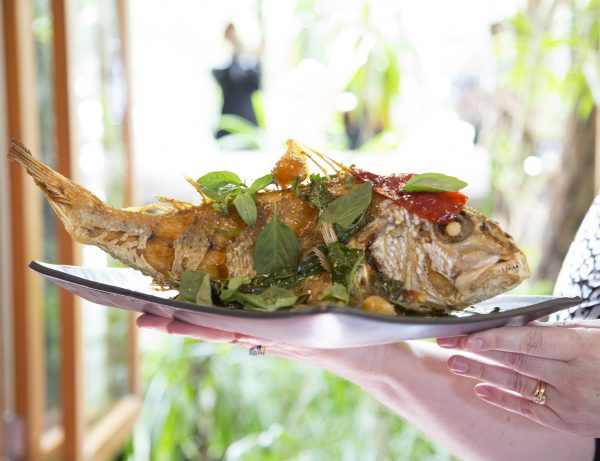 Not only can visitors indulge in the region's best produce with over 100 food and food-related exhibits, they can experience 88 sessions across seven venues, throughout the two days.
Festival Director Julie Shelton said the line-up included more local and nationally recognised chefs and presenters than ever before.
"The Real Food Festival team has been working hard to ensure festival goers can attend workshops with some of the industry's most respected leaders in their field, with presenters flying in from around the country.
"Our new website has all the details of the sessions and speakers to help visitors plan their trip so they don't miss anything important to them.
"We've got 58 speakers including chefs Christine Manfield, Matt Golinski, Javier Codina, Dan & Steph Mulheron and Cameron Matthews, and presenters includingTammi Jonas, Dr Nick Rose, Rhonda Hetzel and Dr Cherie Hugo.
"Producers Cedar Street Cheeserie, Walker Farm Foods, Peachester Farm, Good Harvest, Sunshine Coast Brewery, Kidaman Beef and Rhodavale Pork will each team up with a chef to create some mouth-watering dishes with fresh local produce," Julie said.
"We have a new venue this year, Eat My Words, which will focus on food writing, food bloggers, cookbook authors and restaurant reviewers.
"Venues making a return are cooking demonstrations at Real Food Kitchen, expert presentations at Food for Thought, conversations about diet and health at Nourishing Ideas, demonstrations of tips and techniques at Food Craft, and informative workshops about growing the best quality food at Kitchen Garden, as well as lots of great kids activities in the Little Sprouts area," Julie said.
"This year's festival lineup demonstrates just how much the Sunshine Coast food industry and the festival is evolving."
The Sunshine Coast Real Food Festival is supported by the Queensland Government through Tourism and Events Queensland as part of a dynamic calendar of events throughout the state. It is also supported by Sunshine Coast Council and Sunshine Coast Destination Limited.
The event is expecting 10,000 visitors through the gates over the Festival weekend and will have over 100 food exhibitors from throughout the Sunshine Coast region as well as the full program of cooking demonstrations, chef presentations, conversations, interactive workshops and kids activities across seven different venues within the Festival.
The Real Food Festival will be held at the Maleny Showgrounds, 13 Stanley River Road, Maleny on 12 & 13 September from 9am to 4pm daily and will showcase an abundance of good foods from Sunshine Coast producers, manufacturers and restaurants.  Entry is $20 for a daily adult pass and children under 16 are free.
For more information on the Real Food Festival, visit the website at www.realfoodfestivals.com.au.
Tickets are available at the Festival or you can also purchase your tickets via Ticketmaster – just go to http://www.ticketmaster.com.au/ and search for Real Food Festival.