Sunshine Coast Airport today launched its Fly Local campaign promoting the benefits of flying from the airport.
The more you fly local, the more local flights will come. That's a key message of Sunshine Coast Airport's Fly Local campaign that encourages locals to support current flights with the aim to increase flight options.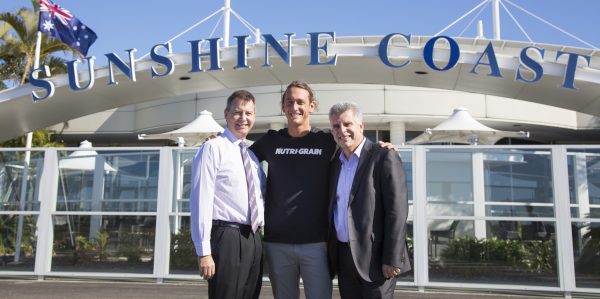 The parochial Fly Local campaign reminds people to consider the whole cost of your trip including saving time and money, using our local airport as a travel hub and integral part of the Coast lifestyle.
Aviation Portfolio Councillor Stephen Robinson said the campaign was about encouraging locals to use Sunshine Coast Airport as their first choice for direct flights and convenient connections to ultimately affect change by jumping on board.
"We want residents to stop and think about the way they travel and the benefits that Sunshine Coast Airport brings to the community. We all love the Sunshine Coast lifestyle – it's why we choose to live here – whether that be a morning surf, walking the dog or spending time with our family, rather than struggling in a long commute everyday," Cr Robinson said.
"We would love to see more locals taking up the Fly Local challenge to help make a difference.
"This campaign highlights the real savings people can make every trip they Fly Local. Flying from our local airport can save you real dollars and hours on your valuable time, let alone the stress of a long drive after a hard day, or the anxiety of making a flight that depends on traffic.
"This is why we are asking people to imagine what they would rather be doing with that time," Cr Robinson concluded.
Sunshine Coast business entrepreneur and 'I Fly Local' ambassador, Kim McCosker, from publishing company 4 Ingredients agrees.
"Sunshine Coast Airport is practically my second home and we (my family and staff) love being able to fly from here rather than fighting traffic, roadworks and crowded carparks," Kim said.
"I travel dozens of times a year and wherever possible I choose to fly from Sunshine Coast
Airport because it's easier. It's a mere 20 minutes from my home, there is ample parking and I have never once forgotten where I parked my car.
"I would much rather spend the extra hours with my family than travelling on the Bruce Highway, particularly when it means leaving home hours ahead to peak the traffic or risk missing your flight!"
Ironman champions Ali Day and Matt Poole have also jumped on board to support the airport – they live and breathe the Sunshine Coast lifestyle through their sport.
"We would much prefer to spend our time training here and just get dropped off at Sunshine Coast Airport – it's much more convenient," Matt said.
"Why waste all that extra time when you can fly from here to anywhere – whether that be around Australia for competitions or internationally when you can easily fly from here to Sydney and grab a connection," Ali said.
Around 900,000 passengers currently travel through Sunshine Coast Airport each year with multiple daily flights to Sydney and Melbourne, and direct seasonal services to Auckland, New Zealand.
Airport General Manager, Peter Pallot, said by increasing use of the airport by locals, Sunshine Coast Airport can demonstrate the need to airlines for improve schedules and offer same-day interstate flight options for business travel.
"We need passenger numbers to increase to send a clear message to the airlines that more flights are a must in and out of the Sunshine Coast," Mr Pallot said.
Mr Pallot summarised, "We are asking everyone to get on board and live the motto I Fly Local, because the more you fly local, the more local flights will come".
To find out more about the Fly Local campaign visit www.flylocal.com.au – Enter the online competition to win fantastic prizes including one of four two-night packages to Sydney or Melbourne including flights, accommodation at Oaks Hotels & Resorts, airport transfers and tickets to a range of exciting events.
Web: flylocal.com.au Facebook: #SunshineCoastAirport Hashtag: #flylocal