The Mary Valley Rattler will celebrate its first Christmas since regular services resumed with a special Twilight Christmas Train journey, along with the opportunity to take your own photos with Santa Claus every Sunday in December in the lead up to Christmas.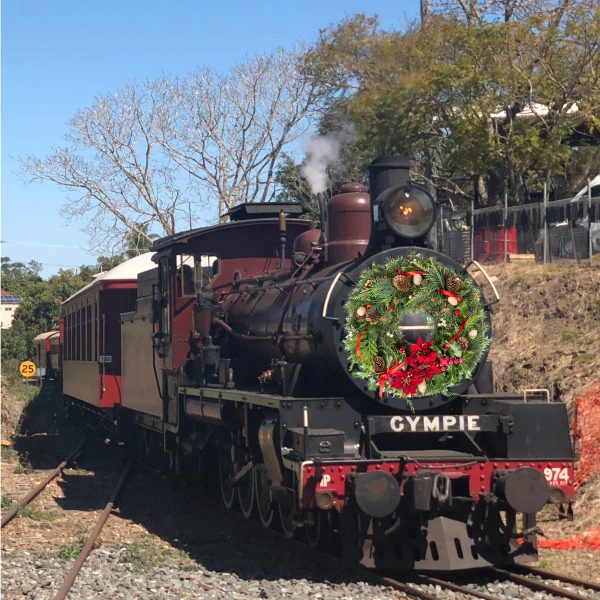 The inaugural Mary Valley Rattler Twilight Christmas Train will depart historic Gympie Station on Tozer Street on Friday 14th December at 5.30pm, on an extended return trip to Amamoor Station.
Mary Valley Rattler Chairman Ian McNicol said the Rattler's Twilight Christmas Train is a rare opportunity to take in the sights and sounds of the scenic Mary Valley at night.
"It's not often you get to see the sun setting across the Mary Valley from aboard a fully restored vintage locomotive, and it will be just on dusk when the Twilight Christmas train pulls in to the station at Amamoor," Mr McNicol said.
"The Amamoor community's End of Year Celebration will be in full swing by the time the Rattler arrives and there'll be food vans, market stalls and even a bar where you'll be able purchase ice cold beer or wine to enjoy with dinner.
"Before the journey back to Gympie, the people of Amamoor have something else up their sleeve too – a colourful display of fireworks that promises to add an extra touch of magic to what will be a very special evening."
After spending several hours in the charming township, the Rattler's Twilight Christmas Train will arrive back at the Historic Gympie Station at 9.00pm.
For those wishing to dine prior to boarding, passengers are invited to enjoy afternoon tea or a light snack at the popular Platform No. 1 Café, which also sells wine and platters of local cheese for the journey ahead.
Wine and cheese platters are provided on board in the iconic Club Car, a VIP area with limited places available, while passengers looking to up the ante even further can book a Private Booth, which has seating for up to 6 adults.
Bookings for both carriages, as well as all tickets for the Mary Valley Rattler's Twilight Christmas Train are essential.
In keeping with the spirit of the festive season, visitors young and old to the historic Gympie Station are encouraged to bring along their camera every Sunday in December in the lead up to Christmas and have their photo taken with Santa Claus aboard the Mary Valley Rattler.
Between 12.30pm – 2pm on the 2nd, 9th,16th and 23rd of December while the Rattler rests at Platform 1 in between its morning and afternoon journeys, St. Nick will be on hand to capture a special memory for Christmas in 2018, with no ticket purchase required.
The Rattler will maintain its regular schedule of morning and afternoon departures every Wednesday, Saturday and Sunday throughout December, with the exception of Boxing Day, Wednesday 26th December, when only one service will depart Gympie Station on the round trip to Amamoor via Dagun, at 10am to return at 1pm.
While bookings for all journeys on the Mary Valley Rattler are strongly recommended to avoid disappointment, bookings for the Boxing Day service, like the Christmas Twilight Train, are essential as these events are expected to sell out.
The Boxing Day journey means a gift voucher for the Mary Valley Rattler, an ideal Christmas gift, can be used almost immediately after the big day.
Other stocking fillers for Christmas can be found amongst the locally made products, speciality giftware and souvenirs for sale in the gift shop at Historic Gympie Station, along with the hand-made goods at the Amamoor Craft Market on a Saturday and the wines and cheeses on offer at Dagun Station.
Bookings for all tickets on the Mary Valley Rattler Twilight Christmas Train and Boxing Day services are required.
For more information, and to book, visit maryvalleyrattler.com.au or call the Mary Valley Rattler on 07 5482 2750. Wheelchair access and plenty of off-street parking available.
TWILIGHT CHRISTMAS TRAIN:
DATE: Friday 14TH December 2018
TIME: Train departs Platform 1, Historic Gympie Station at 5.30pm
ADDRESS: Tozer Street, Gympie 4560
COST: Adults from $55, Children aged 4-12 from $30
SANTA ON THE RATTLER:
DATE: Sunday 2nd, 9th, 16th, 23rd December 2018
TIME: 12.30pm – 2pm
ADDRESS: Platform No.1 Historic Gympie Station, Tozer Street, Gympie 4560 (Train is static)
COST: Free (BYO camera)