With a toot of the horn on its iconic steam engine, the Mary Valley Rattler will start celebrating the Australia Day long weekend early this year, with the Aussie Express Twilight Train departing the historic Gympie Station at 5:30pm on Friday 25th January.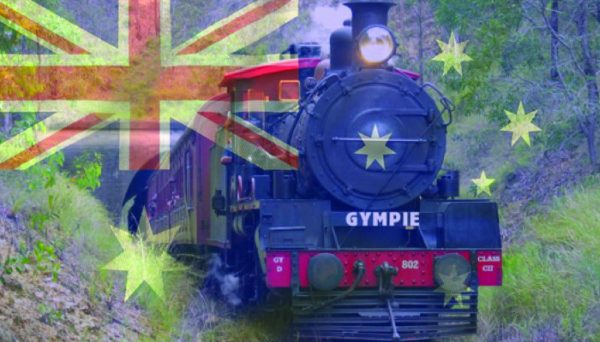 It's the first time the iconic heritage railway experience will mark the occasion since returning to regular services in October last year, and a rare opportunity to enjoy a very special trip on the Mary Valley Rattler at night.
Mary Valley Rattler Chairman Ian McNicol said the Aussie Express will be just the second time the popular tourism attraction has run a night-time passenger service, after running a similar return journey to Amamoor in mid-December.
"The Christmas Twilight Train was a huge success and like that service, we fully expect tickets for the Aussie Express Twilight Train to sell out," Mr McNicol said.
"It's not only an incredible sight to see the sun setting across the Mary Valley from aboard a fully restored vintage locomotive, but a wonderful way to immerse yourself in the vibrant history of the area.
"Australia Day is all about reflecting on our past and our achievements as a nation, and at a local level there's no better way to connect with that than by travelling on this historic railway and enjoying the hospitality of the Mary Valley community."
After a meandering hour-long trip through the most picturesque country-side, the Aussie Express will arrive at its destination of Amamoor, home to the annual Gympie Music Muster, for an evening of family-friendly fun.
Nothing says Australia Day more than a traditional Aussie BBQ dinner, available for purchase courtesy of the local Lions Club and the bar will be open for icy cold beers, wine, and non-alcoholic beverages.
At the Amamoor station, in a fascinating process reminiscent of a bygone era, the locomotive engine is turned on a restored turntable ready for the return trip to Gympie.
After watching this unique practice, passengers are encouraged to pack a picnic blanket to spread out on in the grounds of the historic Amamoor Station to enjoy the final moments of the evening's sunset and free entertainment.
The Rattler's Aussie Express Twilight Service will then return to Gympie, arriving back at the station at 9.00pm.
For those wishing to dine prior to boarding, passengers are invited to enjoy afternoon tea or a delicious meal at the popular Platform No. 1 Café. Takeway food and beverage is also available from the café. BYO alcohol is otherwise prohibited on the train.
For those wishing to travel in high style, complimentary wine and cheese platters are provided on board in the iconic Club Car, a VIP area with limited places available.
Bookings for all tickets for the Mary Valley Rattler's Aussie Express Twilight Train are essential, and for this special service assigned seating applies.

Restroom facilities are available at both Gympie and Amamoor stations.
The Mary Valley Rattler is just an hour's drive north from the Sunshine Coast airport and less than two hours from Brisbane. It's a magical trip into living history and one you will want to take again and again.
For more information, ticket purchases and departure times visit maryvalleyrattler.com.au or call the Mary Valley Rattler on 07 5482 2750.
AUSSIE EXPRESS TWILIGHT TRAIN:
DATE: Friday 25th January 2019
TIME: Train departs Platform 1, Historic Gympie Station at 5.30pm
ADDRESS: Tozer Street, Gympie 4560
COST: Adults from $55, Children aged 4-12 from $30