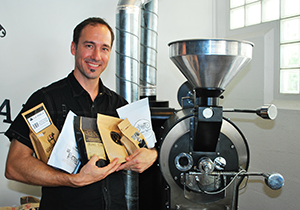 While more and more Australians are enjoying coffee in cafes, at home and work most of us are setting ourselves up for a coffee fail.
More than 75% of the coffee consumed in Australia is instant* and the bulk of the balance of it is mass roasted coffee which is often well past its prime consumption period before it is even purchased.
But The Bean Bag, a new coffee subscription service wants to change all that – delivering monthly or fortnightly parcels of fresh roasted artisan coffee direct to your door.

Already, less than a month since The Bean Bag launched, orders have been delivered all over the country.
Coffee devotee and The Bean Bag founder Jeremy Hyra said the best chance of making a great cup of coffee lay with ensuring you freshly grind, fresh roasted coffee, which was why Australians love café coffee so much.
"Yet at home and work, Australians still consume sub standard espresso, drip or plunger coffee – this is because most are using coffee that was roasted and stored well past its prime consumption period – which is generally between four and 30 days after it is roasted.
"Most mass produced roasted coffee, like that sold at supermarkets, can be 3-6 months old before you even purchase it. Worse still, 75% of the coffee consumed in Australia is still instant*," Mr Hyra said.
Mr Hyra said that's why The Bean Bag was created-to provide a variety of great tasting coffee direct to your door so you don't have to travel the countryside in search of your favourite coffees and it means you never have to run out of coffee again.
"You order online and for a monthly fee, you get to choose how many bags you'd like to receive per month (two, three, or four), and The Bean Bag will hand select and send your beans from award-winning roasters including Flying West, Kai Coffee, Little Cove Coffee Co, Sunshine Coast Coffee Roastery, the Colombian Coffee Co and Tim Adams Specialty Coffee.  If you prefer you can also choose to receive your favourite roast every month."
MEDIA DOWNLOADS & LINKS
click to download or access video links:
High Res images
Click on images – when using images please include photo credit – info in file names.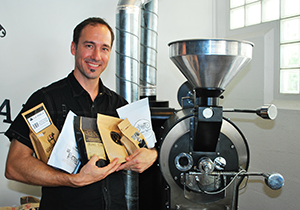 Subscribers can put their subscription on hold if they go on holiday, change their subscription preferences or just set and forget and enjoy the coffee journey.  There is also no minimum subscription period and you can also order taster packs and coffee accessories for yourself or as the perfect gift for your coffee loving friends.
Mr Hyra said The Bean Bag would go further, offering information and tools to help people learn how to make the perfect cup of coffee for themselves every time.
"We will provide important information like grinding guides and how to brew instructions for everything from espresso to drip coffee, and even cold brew. We will also continue to provide educational resources for our subscribers and answer questions via our website and social media," Jeremy said.
To celebrate the launch of The Bean Bag, for a limited time you can get 50% off your first month's subscription and for those who don't have a coffee grinder, the Bean Bag, can also grind your coffee to suit your brewing method.
For coffee brewing tips or to set up your subscription visit www.thebeanbag.com.au. Also check them out on Facebook for special offers, competitions and great coffee tips and info – www.facebook.com/TheBeanBag.com.au.