The Buderim Foundation is set to host its biggest ever Community Grants Celebration next month, with a record of more than $80,000 to be awarded to local community groups, to help grow the community.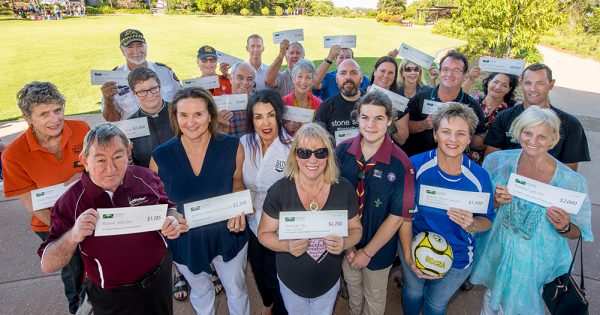 On Saturday 14th September, the popular philanthropy group will announce the 2019 grant winners, the recipients of which are all community-based organisations providing services and support for residents in the 4556 postcode.
This year, the Buderim Foundation will award $82,467 to be shared by 19 community-based organisations, which provide services and support for residents in the 4556 postcode.
Buderim Foundation Grant Committee Chair, Rebecca Ramsay said the event is the most important day on the Foundation's calendar and continues to grow each year.
"This year that is particularly important because our theme is Growing our Community. To celebrate this, we will have a special opportunity for those attending to plant their own seed so they can take it home to water and nurture it and be rewarded when their plant grows.
"This is much like the concept for the Buderim Foundation where donations and bequests are received – money in, then carefully invested – money managed, with the income from the investments then distributed as grants to organisations supporting the 4556 community – money out," Rebecca said.
This year will be the 12th year grants have been distributed, with 158 grants worth more than $540,000 awarded to almost 100 community organisations supporting the 4556postcode area since 2008.
"Buderim is such a beautiful community to live in; everybody is so friendly and engaging so it's great to have more growth in our investment funds which equal more grants and more smiles!" Rebecca said.
Starting at 2pm, in the garden between the Buderim Memorial Hall and Craft Cottage, the Community Grants Celebration is a family-friendly afternoon featuring complimentary refreshments and the chance to learn more about the Buderim Foundation; its fundraising activities and the perpetual fund from which the grants are created.
"Everyone is welcome to participate in the event, which will feature a free sausage sizzle, scones and seed planting," Rebecca said.
"On behalf of the Buderim Foundation, I welcome you all to celebrate the 20 community organisations that were successful in securing funds through our Buderim community Foundation and join us to celebrate our exceptional Buderim community," she said.
For more information on the Buderim Foundation, please visit the new website – www.buderimfoundation.org.au.
EVENT DETAILS:
DATE:             Saturday 15th September 2018
TIME:              2pm to 4pm
VENUE:          In the garden between the Buderim Memorial Hall and Craft Cottage
BYO:               Chairs or rugs