When we gather to pay our respects this Anzac Day at Buderim, the speakers will now stand behind a beautiful handcrafted lectern thanks to a generous gift from the Buderim Men's Shed.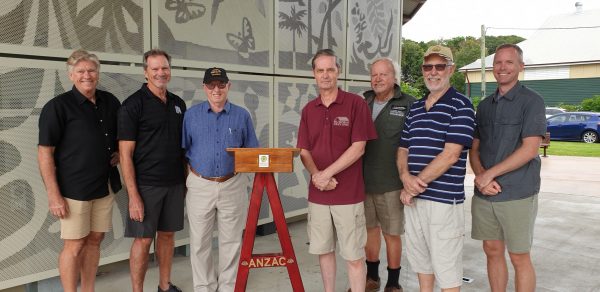 Built by Buderim Men's Shed member Mick Harman, the contribution of time and skill is the latest of Buderim's tradition of a living memorial, where, rather than having a monument or statue, locals participate in acts of community service.
Mick spent more than eight full days making the lectern using materials funded by the Men's Shed.
"It means an awful lot to me to offer this gift to the Buderim War Memorial Community Association," said Mick, whose father and grandfather were both soldiers, while more recently his Godson served in Afghanistan.
"Because of my family members, it's a part of my heart to pay respect to all our past and present servicemen and women."
Taking its significance from the ANZACs' battle at Lone Pine, the lectern is built in an 'A' shape from pine wood.
It is furnished with Rising Sun badges and has a deep, blood-red finish, a colour chosen to honour the more than 60,000 ANZAC soldiers killed and 156,000 who were wounded during World War I.
BWMCA's ANZAC Day Sub-Committee chair Drew Miller thanked Mick and the Men's Shed for their generous contribution to the War Memorial.
"For services each year, we need to borrow many pieces of equipment, but this lectern will be a special feature of our services for many years to come.
"Besides the practicality of it, we're truly appreciative of the beauty and symbolism that Mick has embedded into his craftsmanship.
"The lectern is a work of art which the Anzac Day Sub-Committee is very grateful to have."
This year's Anzac Day services will include the Dawn Service at 5.15am at the Buderim Village Park.
The ANZAC March departs the Buderim Marketplace carpark at 8.30am, followed by the Main Service at 9am in the pine forest of Buderim Mountain State School.