By popular demand, iconic tourist attraction the Mary Valley Rattler announced today it will start Retro Fridays, a fun filled journey every Friday morning aboard the gleaming 1960's Silver Bullet railmotor with complimentary breakfast or lunch.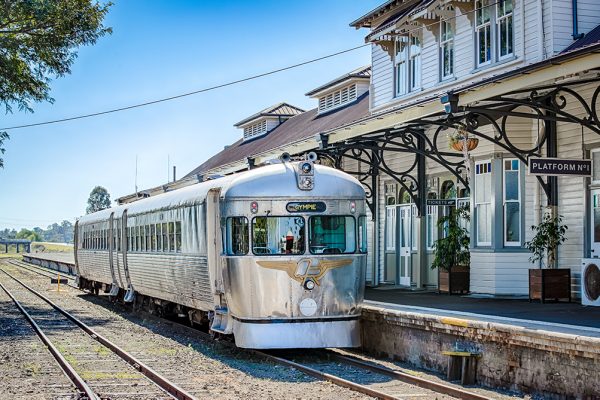 As part of a trial, every Friday 10am, the beautifully restored Silver Bullet diesel railmotor will travel a portion of the Mary Valley heritage rail corridor on a return trip to nearby Monkland, a suburb on the north-east bank of the Mary River home to the Gympie Gold Mining and Historical Museum.
With a meal included in the ticket price, passengers will also enjoy either a delicious breakfast or lunch from Platform No. 1 Café prior to or after travelling.
At 30 minutes for a roundtrip, Mary Valley Rattler Chairman Ian McNicol said Retro Fridays are an ideal way to sample just some of the magic of heritage rail travel the Mary Valley Rattler is known for.
"A trip Monkland is a great way to see parts of Gympie from a completely different perspective – you'll cross the historic Victoria Bridge, which towers a whopping 33 metres above Deep Creek," Mr McNicol said.
"And, if you're like me and fondly remember the era when locomotives like the Silver Bullet were first made, what better way to relive the spirit of the 50's and 60's than spending a morning aboard and learning about this remarkable engine on Retro Fridays."
The Silver Bullet, as it's known, is a 2000 Class Railmotor first introduced onto Queensland Railways in 1956 as a passenger only vehicle seating almost 100 passengers across 2 units, fully fitted out with a luggage compartment­­.
Fully restored to a high spec, the Silver Bullet in the Mary Valley Rattler's fleet of engines is an exceptional example of the 2000 Class, a symbol of modernism and prosperity in its heyday and now an eye-catching reminder of an optimistic time for Queenslanders.
Tickets for Retro Fridays are $30 for adults and $15 for children and include either breakfast or lunch at the Platform No. 1 Café located at the historic Gympie Station on Tozer Street.
The station, considered one of the best examples of timber railway architecture in Queensland, is the home of the Mary Valley Rattler and recently underwent a full refurbishment.
Check in is at the station at least 30 minutes prior to departure and passengers are encouraged to arrive early not only to enjoy breakfast prior to departure, but to have a chat with the drivers and tour guides before boarding the train.
For further insight into the rich heritage of the Mary Valley and how the region has grown, be sure to make time to view the historical display at that station and visit the gift shop selling locally made products, speciality giftware and souvenirs – ideal stocking fillers with Christmas just around the corner.
For more information along with about Retro Fridays, and to book, visit maryvalleyrattler.com.au or call the Mary Valley Rattler on 07 5482 2750. Wheelchair access and plenty of off-street parking available.
RETRO FRIDAYS:
DATE:              Every Friday morning
TIME:               Train departs at 10am, returns at 10:30 – check in at least 30 mins before departure
VENUE:            Historic Gympie Station, Tozer Street, Gympie 4570
COST:               $30 adults $15 children. All tickets include either breakfast or lunch at Platform No. 1 Cafe