ComLink, a community transport and care organisation, is helping to connect locals with social activities within the Bundaberg region.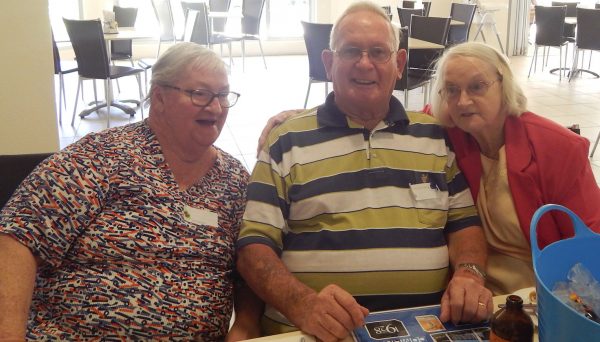 ComLink provides transport and direct care solutions for the frail aged and younger people with a disability to attend medical appointments, shop and maintain their social inclusion.
With a growing client base, and recognising the need for social inclusion for the frail aged and people with a disability, Comlink is adding more social activities to it's calendar.
Local resident and ComLink client, Tex Millers has been using ComLink's services for just over three months and enjoys the opportunity to get out and about in the community with his wife Jenny.
"We have been on so many outings that we wouldn't necessarily get to participate in without ComLink's transport services.
"From Christmas in July, Fathers Day, day trips to Gin-Gin, the movies and fish & chips at the beach, its been great," Tex said.
Tex said that his favourite outing to date was the Christmas in July function, which just happened to be the first ComLink outing he went on.
"The atmosphere was fantastic, I've never seen so many smiling faces. We had a delicious lunch, received a little gift from a sponsor, were treated to a fashion parade and met a few new people who we now regularly catch-up with on ComLink outings," Tex said.
ComLink Bundaberg Regional Manager, Vikki Smout said that the transport services ComLink has bought to the Bundaberg region is enriching their clients' lives and allowing clients to enjoy and socialise at outings that they wouldn't otherwise get to attend.
"For many reasons the elderly and younger people with a disability are unable to drive and have limited access to public transport. ComLink's transport service provides the community with a safe, flexible and friendly service that clients can rely on.
"We have clients who use our services to go to regular doctors appointments, grocery shopping and general errands plus we also have those who like social occasions and participate in our regular planned social events," Vikki said.
ComLink currently has offices on the Sunshine Coast, North Lakes, Bundaberg, Ipswich, and Townsville (with a satellite service in Cairns). Satellite services in Gympie, Childers and Gin Gin will also be opening soon.
Comlink Chief Executive Feda Adra said the charity provided for a wide range of clients with very diverse needs.
"Through our own services and strong links to a variety of community organisations, we are proud to say we never turn anyone needing services away and that is because of the commitment of our staff, volunteers and supporters.
"ComLink is looking forward to rolling out more respite activities in the Bundaberg region for the community to enjoy. The social outings that have been provided to date in 2014 have been a great success and we look forward to expanding on these," Feda said.
If you are interested in becoming involved with ComLink, volunteering is a great way to give back to the community. It can be really rewarding, knowing you have made a difference in the lives of others.
If you would like to find out more information, make a booking or to become a ComLink volunteer, please visit www.comlink.org.au or call 1300 761 011.