Community transport and care organisation, ComLink will mark the launch of its new Bundaberg Region Community Transport Management Pilot Project with a special event on Monday, 27 May.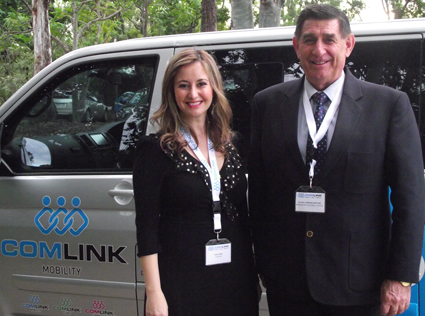 The launch event will be held at Café 1928, Bundaberg Botanic Gardens from 3.30pm for a 4pm start. Local ABC radio personality, Ross Peddlesden will MC the event and Bundaberg Mayor, Mal Forman will officially launch the project.
ComLink Chief Executive, Feda Adra said the new transport scheme would mean better access and more affordable transport options for eligible residents.
The 12-month transport pilot project was developed in conjunction with the Bundaberg Regional Council, and in partnership with a number of local transport providers, and will see ComLink commencing a coordinated transport booking service across the region to assist transport disadvantaged people.
"The aim of the project is to provide improved transport services that meet needs of those that are transport disadvantaged, including the frail aged and youth with a disability," Ms Adra said.
"The services will address social isolation amongst these groups and will provide them with transport to medical appointments, shops and other social activities," Ms Adra said.
"The success of this unfunded pilot project will be determined by the how well used it is by the Bundaberg community," Ms Adra said.
From 27 May, residents will be able to contact a central 1300 number for enquiries, to make bookings and to receive more information about transport services within their locality.
ComLink is a not-for profit organisation and charity providing community transport and care for the frail aged and younger people with a disability to attend medical appointments, shop and maintain their social inclusion from North Brisbane, throughout the Sunshine Coast and north to Bundaberg.
ComLink will also be launching its Kindergarten Transport Solutions Project in July 2013. The initiative aims to help 'give children a flying start' by offering transport to kindergartens within the Childers and Gin Gin districts.
For more information or to become a ComLink volunteer, please visit www.comlink.org.au or call 1300 761 011.