The brainchild of twin brothers Justin and Karl Holland, Communibee is launching a program that aims to educate and help the local community recognise the importance of saving bees and how everyone can do their part.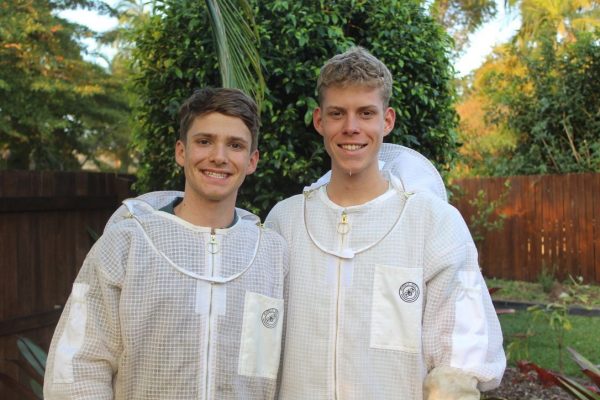 The Holland brothers developed the business idea as the winners of the 2020 Generation Innovation Challenge, and now the duo has launched their new website and online store, showcasing their boutique honey brand, Buderim Blossom, education programs, beehives and more.
Karl and Justin's passion for bees has been burning since their early teens, nurturing their love for the important species.
Justin said they were first inspired by the beehives on the farm at Mathew Flinders and have finetuned their knowledge and skills through years of research and training as well as hours of mentoring from a Buderim beekeeping veteran who has a global following, Jeff Heriot.
Currently studying at university, they continue to build their business and spread their message in the local community about the importance of saving bees and how everyone can do their part.
"We are already working with a number of Coast schools including Sunshine Coast Grammar and Siena Catholic College," Justin said.
Karl said while many people were aware of the declining bee populations worldwide, most did not realise how vital bees are to our ecosystem.
"Albert Einstein once said that if bees were to disappear off the face of the earth, man would only have 4 years left to live," Karl said.
"With the ever-increasing stressors forced upon bee colonies due to habitat destruction, pesticides and other chemicals as well as the rise in diseases, it is important, now more than ever, that society joins the fight to save the bees, because their disappearance would result in our own extinction."
Justin said everyone could do their part. "Through Communibee we are available to deliver education sessions for schools, holiday programs and community groups and our Buderim Blossom Honey is available at local stores and through our website.
"At the moment we are consolidating our hives which are all located around Buderim and look forward to offering hives including setup and training in 2022."
To find out more visit communibee.com.au and follow them on Facebook, Instagram or LinkedIn at @CommuniBeeAU.