The Evans Long and Montserrat Hospital joint venture development Westside Private Hospital at Taringa has reached the final stages of construction with the building 'topping out'.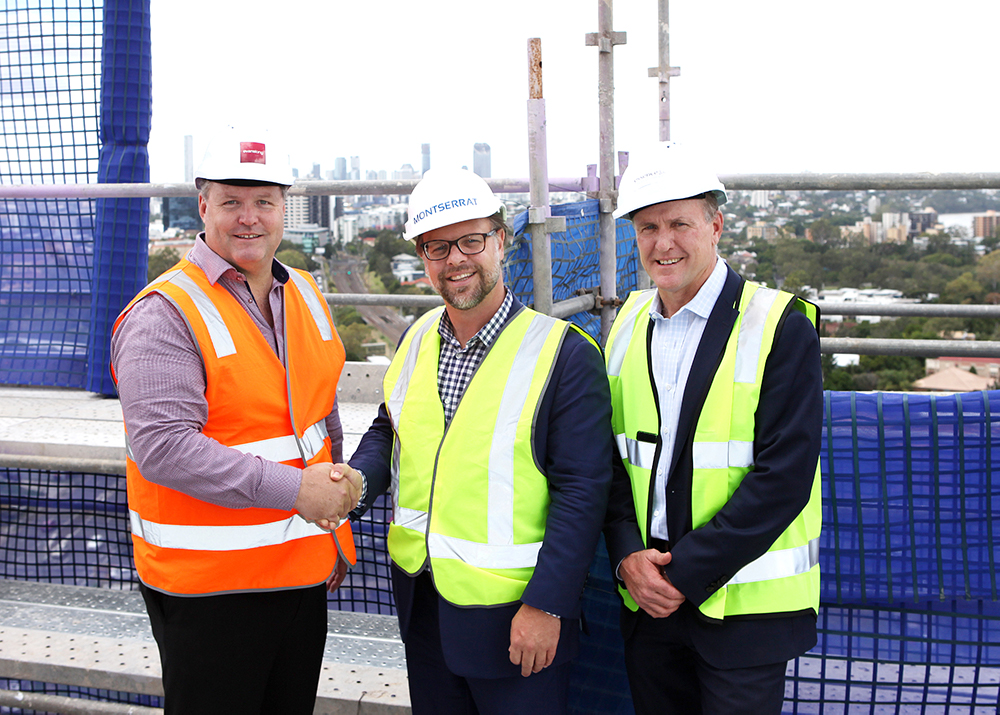 The ten-storey building at 32 Morrow Street, Taringa, will be home to the new Westside Private Hospital, a short-stay overnight facility operated by Montserrat Hospitals.
The hospital floor will house five operating theatres and three treatment rooms. Two additional floors will provide specialist consulting suites as well as Westside Haemaotogy and Oncology, a new addition to Montserrat Cancer Care Services.
The other floors of the building will include a Guardian Child Care Centre and three floors for the Essence Medi Apartments & Suites, which will offer an affordable out of hospital, yet conveniently located, accommodation option for the surgical and oncology patients before, during and after care.
The two top floors of the building will be luxurious sky homes, with a roof top pool and entertainment area, while at the bottom of the building there will be a café and concierge services, a floor containing Allied Health facilities, and four basement levels of car parking with 185 car spaces. Westside Private will allow 3 hours of free parking providing relief for patients and their family.
Evans Long Director Matthew Evans said 'topping out' meant the building was finished externally, with construction now shifting inside to complete electrical and plumbing and final finishes, with completion scheduled for August 2018.
"The intent behind the building is to create an inviting experience for patients, staff and support groups visiting the site," Mr Evans said.
"The building is already over 70% committed with Montserrat and Essence as the largest stakeholders, but there are still limited opportunities to purchase or lease medical specialist or allied health suites, through Transact Property Group.
"We are also expecting strong interest in the five remaining sky homes at the top of the building which have just been released to market for sale with Ray White," Mr Evans said.
"The luxury two-storey sky homes offer an excellent value proposition with luxurious fit out and exceptional city views.
"Positioned high on the hill at the heart of Taringa and featuring floor-to-ceiling glass, the residences are awash with natural light during the day and offer sweeping views, by night highlighted by the shimmering glow of urban Brisbane."
Mr Evans said the building offered an excellent location, overlooking the city centre, within the Taringa Neighborhood Activity Zone, close in proximity to residential, medical, education and retail facilities.
Located within 5km of Wesley Hospital, Toowong Town Centre, Indooroopilly Shopping Centre, the University of Queensland, a number of public and private schools as well as the Mount Coot-tha nature precinct, the building will also feature seamless integration with Taringa Railway Station.
Montserrat CEO Ben Korst said with over 20 years in the healthcare industry and nine facilities across Australia, Westside Private Hospital was Montserrat's most innovative yet.
"Westside Private is a completely integrated hospital where specialists can see patients and their family in modern consulting suites, with direct access to comprehensive Imaging services from Queensland X-ray and on-site QML Pathology Laboratory including onsite reporting Pathologist.
"World-class theatres will be supported by overnight beds at the hospital and 4-star accommodation suites operated by Essence," Mr Korst said.
Westside Private Hospital will also have the full range of cancer treatments and blood disorders at the Centre including chemotherapy and radiation oncology.
Mr Korst said doctors would have access to the latest advancements in technology and research through onsite clinical trials.
"This integrated approach is the gold standard in medical care where specialists and allied health services are aligned through education and multidisciplinary team meetings creating a personalised treatment for every patient, Mr Korst said.
The hospital's comprehensive services include specialists in plastic and reconstructive surgery, oncology, haematology, respiratory, ophthalmology, gastroenterology, ENT, dermatology, oral and maxillofacial, general surgery, urology and orthopedic.
These will be complemented by services including a full suite of radiology services, pathology with onsite pathologist, clinical pharmacy services, radiation oncology and cancer center, as well as allied health services including dentist, pathology, radiology, psychologists, physiotherapists and podiatrists.
MEDIA DOWNLOADS & LINKS
High Res images
Click on images to download high-res – when using images please include photo credit info in file names.
The Essence Medi-Apartments & Suites will include 63 apartments including studio and studio accessible, studio deluxe, one and two-bedroom apartments and one-bedroom suites.
Essence CEO Peter Bates said the facilities included accessible suites and apartments and everything a patient and their family would need for a stay.
Mr Bates said there were suites and apartments suitable to accommodate up to four people, while offering all the amenities and comfort a guest would expect from a luxury four-star accommodation.
For leasing and sales enquiries for the medical specialist and allied health suites, please contact Brett Beaumont at Transact Property Group on 0429 769 800 or email brettb@transactpg.com.au.
For sales enquiries for the sky homes please contact Sharon King at Ray White Toowong on 0429 651 963 or email sharon.king@raywhite.com.