Our PR Director, Michelle Smytheman, is passionate about helping emerging professionals in the communications industry and teaches at the University of the Sunshine Coast. As part of an assessment task this year, there have been some excellent blogs written by first-year students about emerging business trends. We are proud to share their work.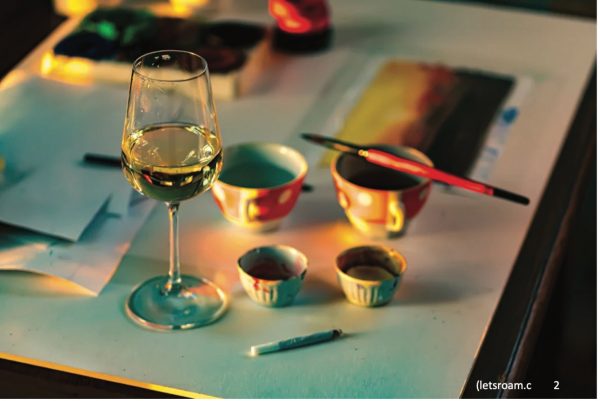 By Prudence Coburn
It's no secret that during the peak of COVID lockdowns many of us started either exploring our hobbies or dabbling in a few more alcoholic drinks in the evenings. In many cases, we did both of these things, which leads me to our topic… Paint and Sips. With these workshops ticking the boxes of being Social, creative and fun, it's no wonder that Paint and Sips are coming out of the pandemic bigger than ever.
Throughout the COVID-19 pandemic, many households had to alter their way of life by staying home. Chances are, we all lived through at least one lockdown where we found that it was surprisingly challenging to ultimately … do less. WHO's (2019) article reports that "the COVID-19 pandemic has had a severe impact on the mental health and wellbeing of people around the world", while also, "severely impeding" the "access to mental health services", due to high demand. Alcohol intake also increased, with organisations such as OECD (2021) and Turning Point online (2020) finding that it's a result of trying to, "cope with stress". OECD (2021) also found that we began drinking at home more, with an increase in e-commerce and retail store sales by 234% in the United States. In their report on 'Alcohol use and COVID-19', it was found that, "in 11 countries …43% of individuals reported an increased drinking frequency". It's clear that globally, we have increased our alcohol consumption over this period, whilst simultaneously having less access to mental health services when we need it most.
"Take a sip of your drink and keep going", (Melissa Purtee, 'The Art of Education University, 2021)
During COVID 19 lockdowns, many found that a creative outlet was essential in coping with the stress of a global pandemic. An article in the 'Journal of sleep research' (D'Ansekmo et al 2022) suggested that, "…creative potential could be used as a protective factor against the development of distress associated with the lockdown".  Art therapy is an example of how creativity can assist with mental health. Art therapists are knowledgeable in: psychology, clinical practice, human development and creative art (Art therapy online 2022). Psychology today online (2022), states therapists utilise a person's expression through creativity to notice any concerning psychological or emotional tones in their practice. Combining a calming and satisfying activity with the ability to express non-vocally is much less confronting.
Though it could be argued that alcohol-infused workshops encourage drinking behaviour, research finds that for the participant, the activity has alternative benefits and has simply found its niche market at the right time. According to the Australian Government Department of Health (2021), short-term effects of alcohol include becoming talkative, relaxed, more confident and a feeling of well-being. The balance of painting and drinking alcohol is where Paint and Sips have found their success in building a socially and ethically sustainable market.
Paint and Sip workshops have existed for years, such as: 'Wine and Design", franchised in 2010, and 'Painting with a Twist', which opened in 2007 (Max. 2012). With the increase of online businesses and interactions through applications like zoom, the Paint and Sip industry is transforming to encourage online classes as well. Ladder Art Space online (2020) is a company that has begun branching out to the e-commerce side of workshops. They charge $25 for their in-person workshop or $20 for a zoom class where there is the option to buy an "at Home Kit". Other Paint and Sips such as Classbento, Pinot & Picassos, Cork & Canvas and Cork & Chroma, are offering virtual class alternatives, some are even offering for the artist to host in your home (McDonald, Maher. 2021). The possibility for expansion is growing even broader with the ability to go online, meaning that these classes no longer have to be subject to your geographic location or lifestyle.
"We're not trying to teach people to be Artists", Harriet Mills (Wine and Design co-founder)
Paint and Sips are progressively becoming one of the largest employers of Artists and are incidentally encouraging artists to become business owners. The Painting with a Twist franchise's founder states the total investment to open is only about $100,000. This franchise now employs 2,500 artists nationwide (paintingfran 2022) and has 300 locations across 39 states in North America (Soworkshops online 2021). It has also begun expanding internationally, with the overall industry's value estimated at $115 million (Franchise chatter online, 2018).
Combining the push of creativity into everyday life and our increased alcohol intake, Paint & Sips are the ideal candidates to tackle the world post-pandemic. With the positive effect of creativity on mental health and the short-term effects of Alcohol consumption, workshops that encourage creativity and expression yet use alcohol to relax and increase confidence finds an equilibrium. However, now that we find ourselves in the conclusion, we need to ask ourselves the underlying question: Does drinking enhance your ability to paint? To answer that honestly, I will say no, yet I encourage you to go to a Paint and Sip and tell me if you think your painting gets better after an alcoholic beverage or two.