It's full steam ahead for the Mary Valley Rattler, with the iconic tourist attraction hosting a day of festivities for First Run Day early next month after the announcement today of the start date for the historic railway's regular services.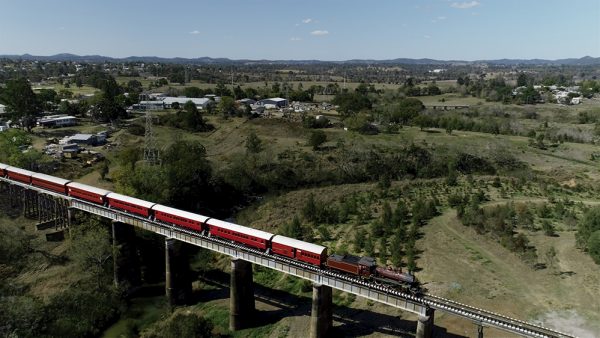 To celebrate, the beautifully refurbished historic Gympie Station on Tozer Street will come alive with a carnival-like atmosphere from 8am on Saturday 6th October, 2018.
Along with live entertainment from The X Factor Australia contestant and local, Caitlyn Shadbolt, a broadcast from local radio station Zinc FM, face painting, and station tours.
There will also be exclusive opportunities to be the first to ride the trains – these exclusive First Run Day tickets are $100 for adults and $50 for children and include a return ride on the train on Saturday 6th October as well as a welcome drink, a gift bag for each passenger and a First Run Day certificate.
After extensive upgrades to century-old track work and its fleet of historic locomotives and carriages, Mary Valley Rattler Board chairman Ian McNicol said the importance of the Rattler as a drawcard to the region could not be underestimated.
"This is a unique asset which very much belongs to the people of Gympie and the Mary Valley, and one which we can all be proud to call our own," Mr McNicol said.
"On behalf of the Board, we'd like to thank the Gympie Regional Council, the tireless work of our volunteers, and especially the community, as well as our fantastic employees, who have all worked to get the Rattler back on track and give our region a world-class tourist attraction."
The Mary Valley Rattler is a historic rail experience operating a fleet of locomotives and carriages, each with their own unique story.
MEDIA DOWNLOADS & LINKS
click to download or access video links:
Video News Release footage on Dropbox
High Res images
Click on images – when using images please include photo credit – info in file names.
    
From Sunday 7th October 2018, morning and afternoon services on the Rattler will run 3 days per week on Wednesdays, Saturdays and Sundays on a return journey from the historic Gympie or Amamoor stations via Dagun.
With return trips taking three hours from Gympie and four hours from Amamoor, Mary Valley Rattler passengers can rediscover the magic of a bygone era with a rail journey through one of the most beautiful parts of Queensland.
Dotted with quaint country towns and known for its high-quality produce, the scenic Mary Valley is home to descendants of the original pioneers of the area and is an ideal place to experience the friendly laidback atmosphere of rural living at its best.
It's a fun, half day adventure suitable for the whole family and a trip you'll want to take again and again.
Tickets for both First Run Day trains and regular operations are on sale now. For more information, ticket purchases and departure times visit maryvalleyrattler.com.au or call the Mary Valley Rattler on 07 5482 2750.
Gympie Regional Council residents and ratepayers can also take advantage of an exclusive membership program, Rattler Mates, to access discounted ticket fares and other special offers. For more information on Rattler Mates, head to maryvalleyrattler.com.au/rattlermates.