The second stage of The Wharf Mooloolaba's $10million refurbishment is well underway with five new ventures to open in the precinct between now and mid-July.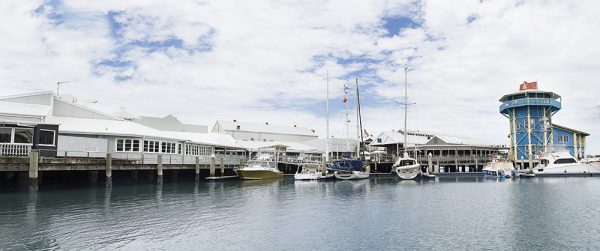 The new food, retail and activity businesses launching are further evidence the precinct is once again gaining a reputation as the place to be in Mooloolaba.
Wharf Mooloolaba co-owner Dirk Long said the new businesses included The Booking Box – an activity booking and information centre, Meraki Thread Co – a new fashion boutique specialising in vintage and up-cycled clothing, Boston Shaker -a new cocktail bar with a jazz vibe, La Finca -a new café from the owners of Colombian Coffee, and Fior di Latte Gelateria – a great new gelato bar from the owners of Pitchfork Restaurant at Peregian.
"With the Booking Box and Meraki Thread Co open this week and three more openings coming up, it's very exciting times at The Wharf."
The Booking Box owner Darren Smith, who also owns one of the Wharf's river cruise operations Coastal Cruises said the Booking Box was an expansion that allowed them to provide visitor information and booking services to Wharf visitors.
"We can book all the great activities here at the Wharf including cruises, fishing charters as well as other tours and activities from the Gold Coast to Hervey Bay. We also have a great coffee bar to serve guests while they wait for their Wharf tours and activities, serving Padre Coffee."
"With Coastal Cruises we have been operating from The Wharf for 16 years and it's great to see all the locals and visitors returning and we wanted to be part of its expansion, so The Booking Box was born."
Meraki Thread Co co-owner Jess Bos said her new boutique which has just opened specialises in vintage and up-cycled clothing, recycled fabrics, with stock from small ethical Australian labels, some locally hand-made pieces, beautiful Australian swimwear.
"We also have some great clothing, accessories and jewellery my husband Nate and I source from our travels all over Australia and the world.
"Nate and I got the idea to open an eco-conscious boutique while travelling around the world surfing and teaching English, we found inspiration everywhere we went and returned home a year ago to open the doors.
"We are passionate about the slow fashion movement and wanted to create a boutique providing what everyone deserves – special, unique, one-off pieces that represent our customers' individuality without breaking the bank and being environmentally conscious."
La Finca, which is Spanish for "The Farm", is the latest passion project from Daniel Mejia, owner of The Colombian Coffee Co. on Brisbane Road, Mooloolaba.
"We wanted to expand on the fair-trade, speciality, sustainable coffee that we offer at The Colombian Coffee Co. So, at La Finca we are pairing that coffee with great quality food using local and seasonal ingredients delivered with an authentic Colombian twist," Mr Mejia said.
"We will be offering breakfast, brunch and lunch with a menu that changes with the season, made with the finest fruit, veg and meat sourced from local producers in our Sunshine Coast community. The menu will feature familiar ingredients with a Colombian flavour – from cornbread to slow-cooked meats and our legendary Arepas.
"The café will continue our tradition of great fair-trade specialty coffee grown on Colombian farms where we know the money goes straight to the farmers, their families and local communities. We take great pride in roasting the beans right in our café so our customers get the freshest coffee the coast has to offer."
Boston Shaker owners Corey Passey and Livi Robins said their new venue was the realization of a shared dream to create a bar where people can relax with live music after dinner.
"It will be a visually beautiful art deco inspired space, designed for comfort with a strong focus on customer service and interaction. It's the type of bar we go looking for – a great place to hang out after dinner and enjoy a few drinks while talking with friends and enjoying great live music without it being too loud," Mr Passey said.
"The bar is going to be set up for musicians from soloists and duos through to six-piece bands and there will be all different styles including jazz."
Fior di Latte Gelateria owners Kim and Craig Galea, who own Pitchfork restaurant at Peregian, wanted to create a Gelato shop with fun and tasty soft serve with creative flavours that change all the time.
"Fior di Latte means flower of the milk which is gelato in its purest form," Kim said.
"We will have creative flavours from cocoa pop or popcorn to Turkish delight, fairy bread, Campari and orange with all the gelato and extras churned and baked on site. We will also be serving Tim Adams Coffee."
Mr Long said since the completion of stage one of the redevelopment in December last year, which saw the opening of Saltwater Fish and Chippery, Rice Boi and The Dock Mooloolaba, visitation to the precinct has significantly increased to approximately 500,000 per year.
"With continuing renovation works, the addition of these great businesses and more to come later in the year, we expect visitation to continue to grow.
"We are very proud of what has been achieved so far and hope to see The Wharf Mooloolaba once again considered as a Sunshine Coast icon – a great place for locals and tourists, as well as a great entry point for the more than 10,000 visitors per year who come on cruise ships to the region."
"People can come and enjoy a great Day at the Wharf, choosing from the great activities and attractions like whale watching and swimming, cruises, scuba diving and snorkeling, do some shopping and check out the attractions at SEALIFE, not to mention the great dining.
"Where else can you choose from such a great variety of dining options all with stunning river-front or harbour views."
"You really can do everything at The Wharf Mooloolaba – meet, eat and play!"
There are still some great leasing opportunities for a mix of boutiques, casual dining and services such as barbers and other offerings being sought. Contact Transact Property Services for details – call on +61 7 5353 6044 or email info@transactpg.com.au.
For more information about The Wharf Mooloolaba including upcoming events, like or follow @thewharfmooloolaba on Facebook or visit www.wharfmooloolaba.com.au.