Registrations for the third annual Bli Bli Unite Fun Run on Sunday 22nd September are now open, and organisers are encouraging families, school groups and local companies to get involved.
The event, organised by Bli Bli Neighbourhood Watch and Bli Bli Little Athletics, at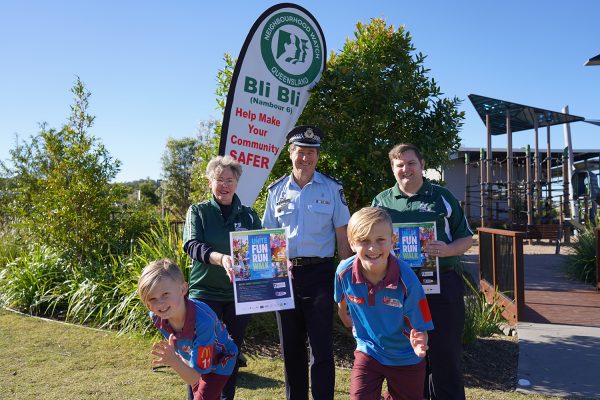 tracts hundreds of participants and raises funds for White Ribbon, which works to prevent domestic violence and support victims.
Bli Bli Neighbourhood Watch president Edith Blanck said last year's event attracted over 300 participants raised more than $10,000 for White Ribbon, and another $7800 for victims of Family and Domestic Violence, Lilly House and Sonshine Sanctuary refuge homes.
"This year we are opening registrations earlier and would love to attract over 300 people to participate in what is a fantastic fun event, and also raise money for this important cause," Mrs Blanck said.
"The course is a picturesque 4km around the central lake at Parklakes 2 and is a great walk or run – and this year we are putting out a special challenge to local businesses to join families and school students.
"We're challenging them to register, come enjoy the day and raise funds for White Ribbon and to help victims & families here in Bli Bli and on the Sunshine Coast."
"There is also a great raffle for a gorgeous one-of-a-kind diamond ring donated by Sunstate Jewellers, which will be drawn on the day.
"Sunstate Jewellers have been supporting us for years and this year they have outdone themselves designing this spectacular ring.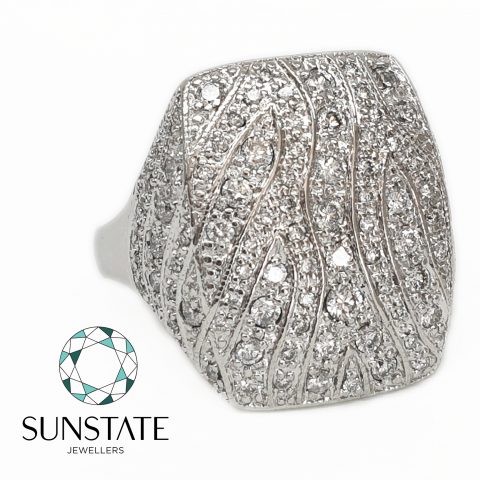 The ring valued at $12,500 is made from 18ct white gold ring handset with 101 brilliant-cut natural diamonds with a total diamond weight of 2.50ct and has been independently valued at $12,500.
Sunshine Coast White Ribbon chair and Sunshine Coast Police District Officer Superintendent Darryl Johnson congratulated the Bli Bli Neighborhood Watch team on their endeavours to play a role in stopping domestic violence from occurring within the Sunshine Coast.
"Violence occurs right across the community and violence within the home is one issue, which is my greatest concern. Domestic and family violence has a significant impact on all involved, whether it be the victim, the family, friends, colleagues and the offender themselves – there is no winner, Superintendent Johnson said.
"We have over 3000 domestic violence orders in place in this area – that is to many.  We need to work together as a community to MAKE IT STOP.
"We all have a responsibility – when you see violence of any type, we need to ensure we are playing our part to ensure that the attitude, culture and behaviour of our perpetrators are being changed.  This is not a challenge we will arrest our way out of – changing behaviours starts in the home.
"Let's make sure we are role models to our children and ensure they know what is right and what is inappropriate.  Violence of any kind is wrong and as a community, we can ensure we are making a difference," Superintendent Johnson said.
"So whether it be at home, at school, on the sporting field, having a drink with friends or at work, you have the opportunity to correct the behaviour and language of those around you."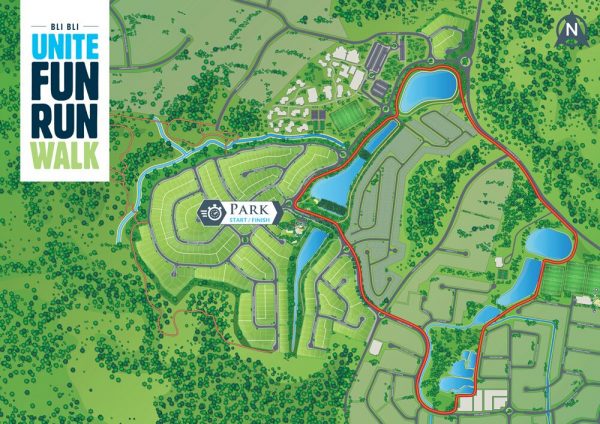 Raffle tickets are available online from www.sunstatejewellers.com.au, at the Dogs on Patrol Fun Day at Nambour PCYC on Sunday 29th July and at the Fun Run Walk on Sunday 22nd September.
To register your team, you can go to www.bbla.com.au/funrun. Registration will also be available on the day from 6.30am, with the run/walk to start from 8am.
Mrs Blanck said this year there would also be fun activities for children and food stalls to celebrate the event at Parklakes 2 Park.
"So everyone can enjoy their leisurely walk or run and then settle in for a great day of fun," Mrs Blanck said.
Registrations fees are: Corporate teams $50, Families $20, Individuals $15 and Students $5.
To register, go to www.bbla.com.au/funrun and www.sunstatejewellers.com.au for information on the raffle. All proceeds of the event will help White Ribbon and help victims of family and domestic violence and refuge homes.
For more event information also check Bli Bli Neighbourhood Watch Facebook page – @BliBliNeighbourhoodWatch and the Bli Bli Unite Fun Run/Walk event page. This event has been made possible through the support of Parklakes 2, Whites Supa IGA Bli Bli, Ray White Real Estate Bli Bli, State Member for Ninderrry Dan Purdie.  Halcyon Lakeside, Bli Bli Pharmacy, Bli Bli Family Medical Centre, Bli Bli Post Office, First Class Accounts/Buderim, Eudomia Group, Reflected Image PRoductions. & Villa Blanck Quilts.