Coffee has long been considered an elixir for life but everyone knows coffee isn't just about ingesting caffeine – it's about ensuring that your cup of coffee, however you prefer it, is perfect every time.
All coffee connoisseurs know that getting the perfect cup of coffee just makes your day better, but with so many variables to successfully brewing, it can be elusive.
But that doesn't have to be the case, according to Jeremy Hyra from The Bean Bag coffee subscription service who has imported some great innovative coffee gear just in time for Christmas.
MEDIA DOWNLOADS & LINKS
click to download or access video links:
High Res images
Click on images to download high-res version.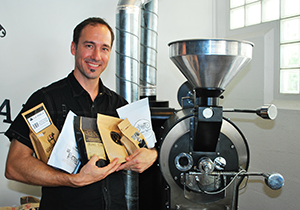 "Getting the perfect cup of coffee is about knowing what style of coffee you like, using the best quality freshly roasted coffee beans and the appropriate brewing method and technique," Mr Hyra said.
"The coffee industry in Australia and around the world is booming with coffee lovers growing exponentially. A big part of this growth is due to the continued innovation in brewing tools and methods that are making it easier than ever to produce great tasting coffee at home.
"Methods include much more than the traditional espresso with alternatives like pour-over/drip, cold-drip, cold-brew, French press/plunger also becoming more popular.
"In many cases, these methods allow for people to better experience the specific characteristics of each bean based on its growing region, elevation, drying and roasting method.
"This follows what is called the "Third Wave" of coffee – a movement to produce high-quality "specialty" coffee, and consider coffee as an artisanal foodstuff, like wine, rather than a commodity.
Mr Hyra said hot coffees with milk/cream, sweetener and other flavours don't allow for the specific aromas and tastes to come through so consumers are missing out on some of the nuanced characteristics which can have fruity flavours such as blackberries, apples and lemons as well as spicy and nutty characteristics.
The Bean Bag aims to make enjoying the perfect cup of coffee simpler by working with local Sunshine Coast coffee roasters to deliver quality freshly roasted coffee to subscribers every month.
"We also offer some of the most innovative coffee brewing tools as well as information, tips and tricks on our website and via social media."
Mr Hyra said in time for Christmas, The Bean Bag has also imported into Australia some of the world's best coffee gear including the Espro and Travel Press, the Duo Steeper, as well as reliable favourites, the Toddy Cold Brew and the Aeropress. More information on each of these innovative products is over the page.
"Using this gear and freshly grinding quality freshly roasted coffee just before you brew, you can't go wrong.
"Most mass-produced roasted coffee, like that sold at supermarkets, can be 3-6 months old before you even purchase it so no matter how you brew it, you are never going to get the perfect cup. Worse still, 75% of the coffee consumed in Australia is still instant*," Mr Hyra said.
Mr Hyra said that's why The Bean Bag was created to provide a variety of great tasting coffee direct to your door so you don't have to travel the countryside in search of your favourite beans or ever run out of coffee again.
"You order online and for a monthly fee, you get to choose how many bags you'd like to receive per month (two, three, or four), and The Bean Bag will hand select and send your beans from award-winning roasters including Flying West, Kai Coffee, Little Cove Coffee Co, Sunshine Coast Coffee Roastery, the Colombian Coffee Co and Tim Adams Specialty Coffee. If you prefer you can also choose to receive your favourite roast every month."
Subscribers can put their subscription on hold if they go on holiday, change their subscription preferences or just set and forget and enjoy the coffee journey. There is also no minimum subscription period and you can also order taster packs and coffee accessories.
"If you have friends or family who love their coffee, a coffee subscription, one-off coffee bean taster pack or some great new coffee brewing gear are all perfect gift ideas – and they are just a few clicks away."
For coffee brewing tips or to set up your subscription visit www.thebeanbag.com.au. Also check them out on Facebook for special offers, competitions and great coffee tips and info – www.facebook.com/TheBeanBag.com.au.
Innovative Coffee Brewing Gear:
Espro Press & Travel Press: A new take on the French Press or "plunger", they are not just stylish in design but smart as well – keeping the coffee from over-brewing and going bitter by using a double micro-filter, while also keeping your coffee hot for up to 3 hours thanks to the double-walled stainless steel construction.
Duo Steeper: There are a number of "pour-over" or drip options such as the classic Chemex or V60, but Duo Steeper has a stainless steel filter at the top and the option to pour over or let the coffee "steep" at the top and then you twist to release the coffee into the container at the bottom, before your pour and enjoy!
Toddy Cold Brew: Cold-brew and cold-drip coffee are all the rage right now and for good reason (as long as you are not thinking of the over-sweetened mass-produced options. When you think of great cold-brew or cold-drip coffee, think of beautiful tall drip towers at café's, but you can get this same result at home with the Toddy Cold Brew. The process is simple: put coarse ground coffee and cool water into the device, which has a filter and a stopper at the bottom. Steep overnight and then pull out the stopper and drain into a container. This produces a less bitter coffee concentrate, which can create hot or cold coffee creations and stays fresh in the fridge for up to 2 weeks.
The Aeropress is a lightweight, one-cup-at-a-time, do-everything device. It is not new, but the ways that people use it continue to expand. It can be used for pour over, inverted to steep coffee, brew over ice and much more.