With the Mary Valley Rattler soon to be back on track, the not for profit community organisation behind the prominent tourism attraction is offering Gympie residents the chance to be part of an exciting new membership program.
Rattler Mates membership is available exclusively to Gympie Regional Council residents and rate-payers and provides card holders with one complimentary train ride, a 50% discount off subsequent single fares and a range of other discounts valid until June 30 2019.
Mary Valley Rattler Chairman Ian McNicol said Rattler Mates would give members the opportunity to experience the timeless character of the Rattler's magnificent heritage trains and a chance to share in the region's history.
"We hope Rattler Mates will give members a sense of ownership of the Rattler," Mr McNicol said.
"Our train tours offer a great rail journey through the Mary Valley, with spectacular scenery, that changes not only with the seasons, but with the time of day as well."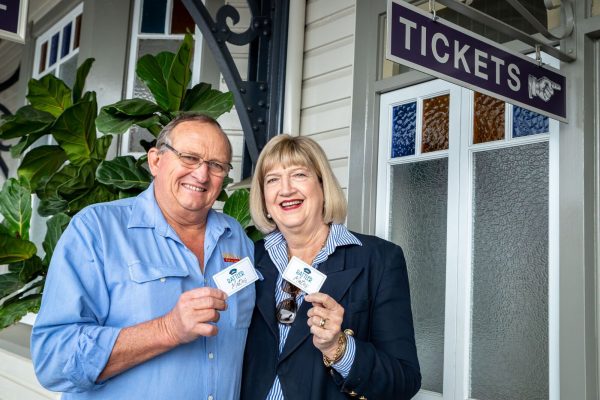 For just $49 per person, Rattler Mates will also receive a Rattler Mate ID card, a 10% discount off food and beverages from the popular café at the historic Gympie Station, 10% off retail items in the gift shop and invitation to special events along with other exclusive offers.
Gympie locals and prominent business people John and Margaret Cochrane, of Gympie Regional Realty and Kenilworth Dairies, are the first to become Rattler Mates and said they were delighted to hold the first memberships.
"We have always loved a trip on the Mary Valley Rattler and the history it represents, and look forward to taking our children and grandchildren on board over the coming months," Mrs Cochrane said.
"It's a magnificent way to experience the landscape we live in."
The Mary Valley Rattler is a heritage rail experience operating a fleet of locomotives and carriages, each with their own unique story.
Mary Valley Rattler passengers can join the journey in Gympie or Amamoor and rediscover the magic of a bygone era with a rail journey through one of the most beautiful parts of Queensland.
Dotted with quaint country towns, the scenic Mary Valley is home to descendants of the original pioneers of the area as well as modern initiatives like the Slow Food movement and is an ideal place to experience the friendly laidback atmosphere of rural living at its best.
With Christmas just around the bend, a Rattler Mates membership is an excellent gift idea and one which promises countless trips down memory lane.
To purchase Rattler Mates membership or for more information and full terms and conditions, contact the Mary Valley Rattler on 07 5482 2750, or register at www.maryvalleyrattler.com.au/rattlermates.