JUST 18-months since it launched, The Hatted Chef has reached the milestone of providing 5,000 meals for the homeless and vulnerable.
The Hatted Chef, which offers chef-prepared, heat & eat meals for sale through independent food stores, began at the beginning of the Covid-19 pandemic with an idea that had been brewing in the kitchens of Mooloolaba restaurant The Dock Mooloolaba.
The Hatted Chef executive chef Chris Sell said now coming up to 18-months after launching on 27th October 2020, the team was delighted to be expanding its distribution beyond the Sunshine Coast, into Brisbane, and preparing several hundred meals a week.
"We have just signed a distribution agreement with the Drakes Supermarkets Queensland stores, and they have more than a dozen just in South East Queensland, and we are looking to extend to their stores Australia wide in the future."
Drakes Stores category manager Jacqueline Walters said they were thrilled to be a retailer for The Hatted Chef.
"At this early stage, sales of the product are excellent. We look forward to seeing further sales growth of this quality product range throughout our stores and hope our involvement with The Hatted Chef goes a way to assisting in feeding the homeless now and in the future!" Ms Walters said.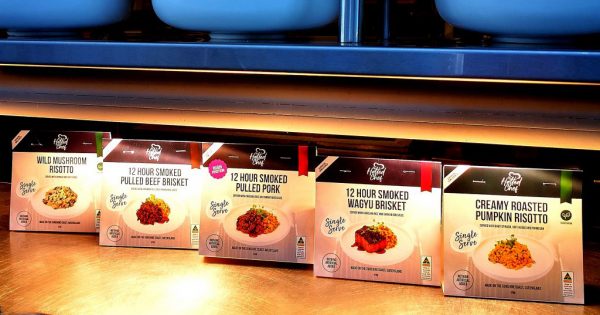 Mr Sell said The Hatted Chef was also thrilled that its growth over its first 18 months was benefiting vulnerable people in the community.
"We love that we have been able to support the important work of Sunny Street, which provide medical care for the homeless and vulnerable," Mr Sell said.
"When we first started developing the business there were a lot of people in need because of the impact of Covid-19 lockdowns and restrictions so as well as making sure we had work to keep our kitchens open and our staff working, we also wanted to incorporate support for some of those in need."
Mr Sell said there was a lot to do to bring a new product to grocery stores, so we were very grateful to Roz White from White's IGA who provided advice and support and agreed to stock our range at her Sunshine Coast stores as part of their Locavore program.
Roz White said she was delighted to be able to support The Hatted Chef.
"It's a great range that is of a very high quality, it's convenient and the servings are generous, and it's local which we love," Roz said.
Mr Sell said The Hatted Chef has been growing in production since they launched with White's IGA Sunshine Coast stores to over 30 stores across South East Queensland and look to grow that expansion even more over the next 12 months.
"We are really grateful for all the support we have had both from businesses and our loyal customers. We love that so many have incorporated Hatted Chef meals as part of their weekly menus.
"Our meals offer convenience where people can prepare a restaurant-quality meal in under 15 minutes, just by dropping the vacuumed-sealed bags into boiling water and customers have responded really well.
"And it is because of them we have been able to provide 5000 meals to Sunny Street to give to those in need and also grow our team, providing more jobs for locals."
Sunny Street's Dr Nova Evans said homeless people need a whole range of support, but they are also vulnerable.
"So, for us, food starts a conversation," Dr Evans said.
"It is such a relief to be able to provide meals to those who perhaps haven't eaten in the last 24 hours, and we are able to make sure their bellies are full before they head out into the world to face another day.
"It also means we have been able to feed school-aged children who are in need of a meal so that they can go to school or to sleep at night with a belly full of a nutritious meal.
"These meals are a mainstay at our centre and lots of people drop in and we heat the meal for them to start the conversation!"
Chris said The Hatted Chef would continue to provide meals for the homeless and vulnerable and as the meals went into more stores and were distributed beyond the Sunshine Coast and Brisbane, they would be able to provide more meals to those in need.
"From here, we want to continue to grow the business to employ more people, offer the meals in more places, and support homelessness in the local communities where our meals are sold," Chris said.