Our PR Director, Michelle Smytheman, is passionate about helping emerging professionals in the communications industry and teaches at the University of the Sunshine Coast. As part of an assessment task this year, there have been some excellent blogs written by first-year students about emerging business trends. We are proud to share their work.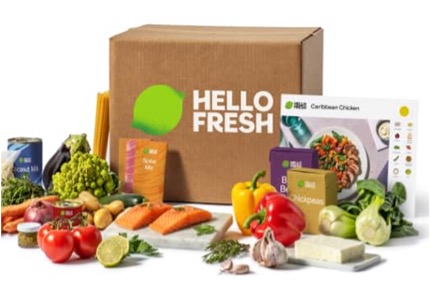 By Melissa Farmer & Connor Davies
"What's for dinner?" Does a day go by without this question being asked multiple times in any household? With the incredible pace of life in the 21st century, the last thing we have time for is planning, shopping and cooking dinner. It is in consumers' best interests to want quality, tasty and nutritious meals that fit into their busy lifestyles. This is where HelloFresh steals the show, meeting consumer demands with their amazing meal kits that take the hassle out of nightly meals.
HelloFresh is a food subscription box that is designed to fit any lifestyle. It is a weekly food delivery service with options for two or four people, offering three to five meals per week. The subscription is flexible, you simply pre-order the meals you want for the following week and they are conveniently delivered to your door.
The menu consists of 30-40 tasty recipes that take an average of 30 minutes to prepare. These meals are curated by a dedicated team of dietitians and chefs. HelloFresh meets consumer demands by using company data to provide a menu that best fits the requests of customers.  This creates an array of meals to cater for many different palate types.
Too Cool for School and no time to cook the Chook
Did you know that meal kits are more popular with millennials and generation X as these consumers tend to have higher incomes, work full time or are self-employed? Internal stimuli address the elephant in the room. That meal kits save time in planning and in grocery shopping. They simply complement a perfect home-work balance.
Buyer behaviour is a personal choice where the consumers' lifestyle is paramount. Consumers want all the hard work taken out of cooking – They want meals to be fresh, and nutritious, to include minimal preparation and clean-up. On top of that, delivered straight to their door. Consumers acknowledge that there is a need for a quick and easy solution.
 Well, HelloFresh
Using the buyer decision process, consumers recognise they need help. With the assistance of Google (research at your fingertips) consumers can quickly ascertain what products work for their busy schedule and align this with their lifestyle, being either vegetarian, meat and vegetables, family-friendly or calorie-smart meal kits. The guidance from attitudes of others, previous experiences, activities and interests help facilitate the consumers' decision based on their own personal lifestyle – the decision has been made – "Your HelloFresh order is on its way!"
HelloFresh is committed to minimalising food waste by maintaining a tight relationship with the suppliers of their perishable items. They only order what has been ordered by the customers. This also means you, the customer, are receiving the freshest of food with the advantage of minimalizing your personal household food waste. A greener future is a social issue all consumers are responsible for, reducing our food waste is a great way we can help.
Hello Covid Fresh
HelloFresh has shown they are able to effectively scale up its business model during the Covid-19 pandemic. They were able to respond to the change in market demand with consumers not wanting to enter shopping centres, due to the risk of contracting the virus or being required to isolate because of government health regulations.
Due to these unprecedented lifestyle changes, caused by not being able to attend restaurants, HelloFresh allows consumers to make gourmet meals in their homes with premium and exotic ingredients. In 2021, HelloFresh recorded a 59.7% increase in orders and a 60.4% increase in the number of meals provided worldwide.  In the last quarter alone, there was a 36.5% increase in active customers. Further to this, their use of an expanding menu attracts a broader market that offers greater value and allows them to build a reliable customer base. As displayed in Figure 1, HelloFresh's sales surpassed all of its competitors hence putting them on the leader board for market share in 2019 and 2021.
So, what's next? KetoFresh? PescatarianFresh? VeganFresh?
HelloFresh's mission is to "Change the way people eat forever" and it poses as a great solution when everyday people are looking for a convenient and healthy lifestyle balance. In today's fast-paced society, convenience is at the forefront of any family's weekly meal planning. HelloFresh can deliver… literally! They have a product that fits consumers interests and opinions – meals need to be quick and easy! Although it does beg the question, where to next for HelloFresh? We know they have mastered catering for the everyday busy family, but what about different diets and dietary requirements? While consumers love the simplicity of HelloFresh, they could also be looking for a lifestyle change, whether it be for weight loss or certain dietary requirements. We believe that HelloFresh would be able to serve a whole new demographic if they introduced various meal kits to suit popular diets. For example, Pescatarian, Vegan and Ketogenic meal kits that cater for these diets, while maintaining the amazing simplicity that HelloFresh is so well-known for.
Food for thought in changing the consumers life for the better, one meal at a time.