Award-winning chef Chris White will be showcasing and celebrating the incredible produce and food produced in South East Queensland with special Regional Harvest Lunches at his Buderim restaurant Hungry Feel Eating House throughout June.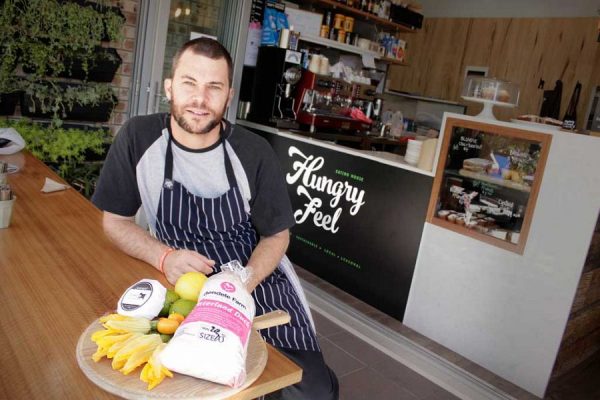 Hungry Feel Eating House, established 15 years ago, prides itself on using and showcasing local food and are members of the Food Agribusiness Network – which helps connect producers with local businesses on the Sunshine Coast.

"We are all about food steps, not miles and that is what we are celebrating with our Regional Harvest lunches," Chris White said.
"We grow and cook with the seasons which in turn informs and educates the public on what to eat now," Chris said.
"We grow most of our own produce in our kitchen garden, which lies 300 metres from our restaurant, on the boundaries of Buderim's Urban Food Street, a grassroots community   landscape which we continue to be involved with.
"We harvest each morning to be served that day and work with other local farmers, small producers, artisans and small business to help support and grow the community and provide great seasonal meals for guests.
The Regional Harvest Menu offers a two-course lunch for $45 per person with a glass of wine or beer and tea or coffee.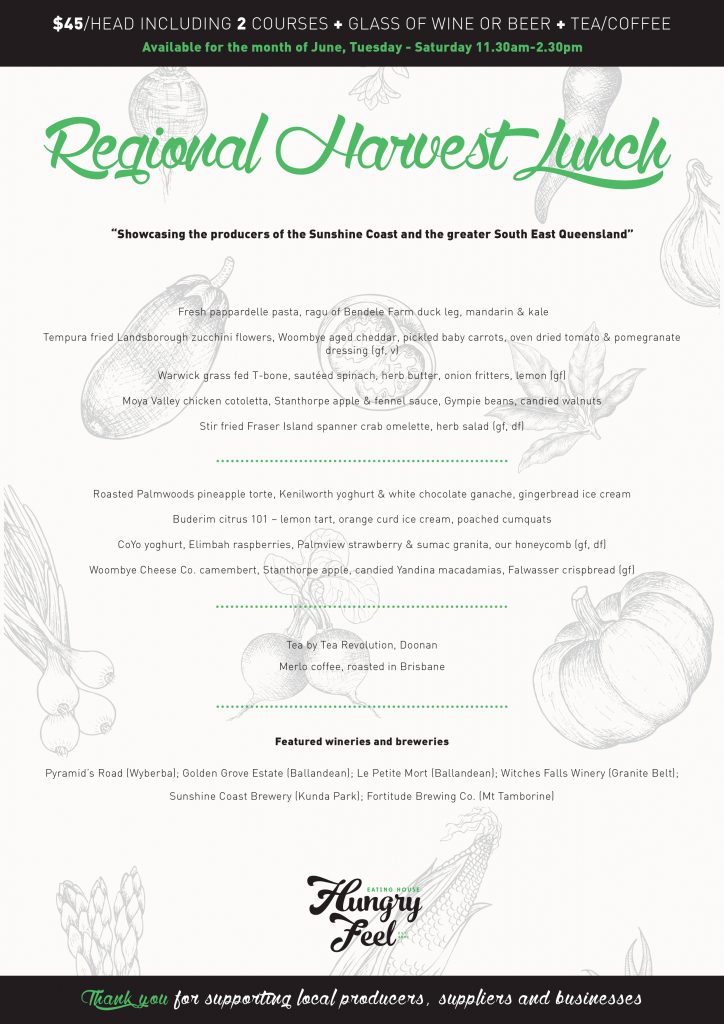 The menu features duck from Bendele Farm, zucchini flowers from Landsborugh, aged cheddar and camembert from Woombye Cheese Co, grass fed T-bone from Warwick, chicken from Moya Valley, beans from Gympie, spanner crab from Fraser Island, pineapple from Pamlwoods, yoghurt from Kenilworth Country Foods, citrus and salad from Buderim, CoYo yoghurt and macadamias from Yandina, apples from Stanthorpe, Falwasser Crispbread from Byron Bay, tea from Tea Revolution, Doonan and Merlo Coffee, roasted in Brisbane.
"The Sunshine Coast is blessed with a unique micro climate, fertile soils, good rainfall and sunshine enabling it to produce abundant crops seasonally and rearing livestock and poultry year round," Chris said.
"This means the very best quality ingredients for our chefs to work with and it also helps the local community and food economy to flourish.
To book or for more information call Hungry Feel on 07 5477 1331 or visit www.hungryfeel.com.au/events/.