Transport workers are sparing themselves injuries, thanks to an ingenious and inexpensive device designed by occupational therapist, Tim Elvery together with experts from the trucking industry.
The Strong Arm Strap is designed to reduce the risk of musculoskeletal injuries and make it easier for truck drivers and transport workers, when opening and closing heavy tautliner truck curtains.
Mr Elvery, from StrongLinx, said the simple cost-effective device provided leverage and also helped to reduce the risk of injuries to the back, shoulder, upper limbs and neck.
The transport industry has a higher rate of injuries than many other occupations, with the average cost of a lost-time work injury in the road transport industry being $26,089 (*Queensland workers' compensation scheme statistics 2017-18).
"I developed the Strong Arm Strap out of necessity, after seeing and treating the injuries caused when transport workers strained themselves pulling tautliner curtains that were sticking, worn or just heavy.
"The Strong Arm Strap means they can securely ground themselves and get a good grip on the strap handle, instead of stretching and straining to pull the curtains, enabling them to open or close the curtains much more safely and easily," Mr Elvery said.
"The strap is also compact and easy to store so it's ready when needed."
The strap hooks into the curtain buckle (saving fingers and hands from possible injury) and allows workers to keep their arms close to their body as they pull, so they can use their core strength and reduce the risk of over-stretching (saving back and shoulder injuries).
BevChain driver Malcolm Tom said using the Strong Arm Strap made the job easier.
"All BevChain shuttle drivers from the XXXX Brewery in Milton really like using the Strong Arm Strap, as it makes opening side curtains much easier and puts less strain on our bodies," Mr Tom said.
Matthew Muller, also a BevChain driver concurred.
"The Strong Arm Strap makes light work of hard to move curtains that will save workers from long-term potential injuries."
The Strong Arm Strap retails for just $39.50. For more information or to order visit www.strongarmstrap.com.
MEDIA DOWNLOADS & LINKS
click to download or access video links to embed:
High Res images
Click on images – when using images please include photo credit – info in file names.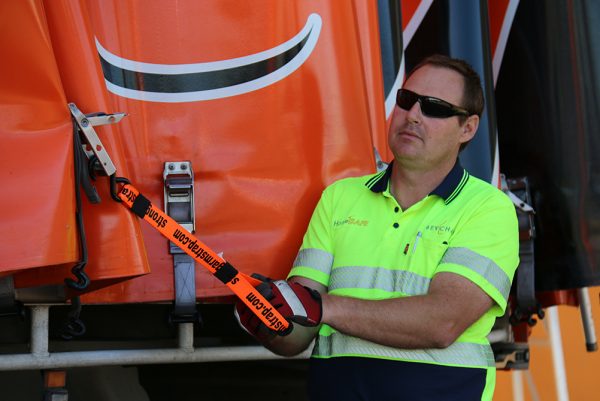 *For more information on statistics quoted – Queensland Workers' Compensation Scheme statistics 2017-18 – https://www.worksafe.qld.gov.au/__data/assets/pdf_file/0003/167628/wcr-stat-report-2017-18.pdf