Sunshine Coast Businessman Philip Hart has become the newest ambassador to Sunshine Coast Airport's Fly Local campaign, which aims to highlight the importance and benefits to the community of people choosing to Fly Local.
Since moving to the Sunshine Coast in 2013, when he and his son purchased Sunreef Mooloolaba, Philip has been using Sunshine Coast Airport to easily access his other businesses in Melbourne including Financial Index, which employs over 3000 people nationally and has $15 billion under financial management.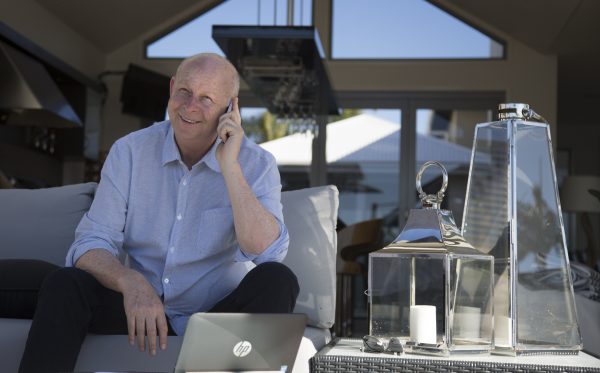 Philip said he requires weekly travel to and from the Sunshine Coast and Melbourne in order to manage his businesses and attend meetings.
"I'd much rather be out on the boat in Mooloolaba than stuck in traffic commuting to Brisbane.  Time with my family is precious and Sunshine Coast Airport's facilities allow me more time with loved ones.
"It is easy to travel from Sunshine Coast Airport, I can park stress-free and it's under 10 minutes from our dive centre in Mooloolaba," Philip said.
"Saving time is essential for me, I Fly Local to all my domestic meetings and to see family members.  It is so much easier to use Sunshine Coast Airport, I can fly straight into Sydney or Melbourne and connect to anywhere in the world."
Airport General Manager, Peter Pallot said having locals utilising the Airport was critical to attracting more flights.
"We said at the beginning of this campaign that if more people use the airport, more flights will come and we were delighted to recently announce that Qantas will commence flights to Sydney in December, with a business friendly schedule starting in Feburary.
"The new Qantas schedule will allow Sunshine Coasters to avoid highway traffic and crowds, save money on airport parking and arrive in Sydney to do a day's work and return again that evening," Peter said.
"We are always working across a number of fronts to secure more flights for the Sunshine Coast but demonstrating increasing passenger numbers to the airlines is a key part of our strategy.
"We thank everyone for their support and ask them to continue Flying Local and encouraging family, friends and business associates to do the same."
The Qantas flights between Sydney and Sunshine Coast will be on two-class Boeing 717s, which have Q-Streaming in-flight entertainment and complimentary iPads for all passengers, Mr Pallot said.
Mr Hart added that he was extremely happy with the announcement of an early morning flight schedule.
"It will make things so much easier for a lot of business people – I know it will allow me to get a few more meetings into my daily schedule when I'm in Sydney for business," Philip said.