The Mary Valley Rattler will mark a major milestone next month, with a record number of train journeys scheduled for December, as strong demand from visitors builds.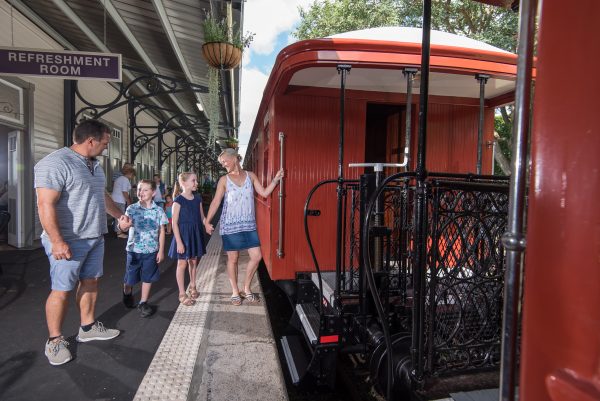 The heritage railway experience is on track to run 34 services in December, a 30% increase from its regular timetable of the 26 services spread across Wednesdays, Saturdays and Sundays since the popular attraction reopened in early October.
Mary Valley Rattler Chairman Ian McNicol said the significant jump is a result of special Christmas services, an extension of the Retro Fridays trial and the demand for group bookings.
"We're thrilled with the way Queenslanders have embraced the return of the Rattler, so much so that we will continue with our trial of Retro Fridays, the short haul trip to Monkland on the Silver Bullet rail motor paired with breakfast or lunch at the Platform No.1 Café throughout December. We have also planned some very special trips to celebrate Christmas," Mr McNicol said.
"There will be a special Christmas service scheduled next month, with two additional charter services to run for private functions.
"We expect the Christmas trains, and the Boxing Day steam service, to sell out quickly so encourage passengers to book early, particularly if they're one of the many who are wanting travelling on the Rattler as part of a group."
The fully restored steam and diesel engines in the Mary Valley Rattler's fleet have made more than 50 journeys along upgraded track work since relaunching 7 and a half weeks ago, with almost 90% of passengers visiting from outside the Gympie Region.
"To date, we've had more than 3,800 passengers come aboard, with tickets for Saturday and Sunday morning services consistently selling out," Mr McNicol said.
Mr McNicol said he was very pleased to report that as predicted the Mary Valley Rattler was bringing in lots of visitors to the region.
"To date, almost 60% of bookings are coming from Queensland and of those 84% have come from outside the Gympie region, with 45% from the Sunshine Coast and 24.5% from the Brisbane region," he said.
"Considering we are yet to experience school holidays, we have also good early visitation from interstate of about 5%."
The Rattler's flagship Gympie to Amamoor journey is a 3 hour round trip with 30-minute stops at the beautifully restored stations at Amamoor and Dagun.
Dotted with quaint country villages and known for its high-quality produce, the Mary Valley is a patchwork of grazing properties, dairies, small produce farms and endless rolling hills, and is home to descendants of the original pioneers of the area.
Best known for the annual music muster held nearby, Amamoor is a charming village bordered by a verdant forest reserve home to more than 120 species of bird, waterfalls and great waterholes to cool off in on hot days.
It's at the Amamoor station, in a fascinating process reminiscent of a bygone era, where the locomotive engines are turned on a restored turntable for the return trip to Gympie via Dagun.
Every Saturday afternoon, the Dagun Growers Markets are held and the local community offer wine tasting and cheese samples from the popular nearby Kenilworth Dairies for passengers on the platform at Dagun Station, along with the opportunity to purchase locally grown spray free fruit and vegetables.
Mr McNicol said recent rainfall has given the scenic Mary Valley an exceptionally lush outlook, making the gently winding ride through the hinterland especially relaxing at this time of year. Restroom facilities and refreshments are available at all stops.
A ride on the Mary Valley Rattler is a fun, half day adventure suitable for the whole family just an hour's drive north from the Sunshine Coast airport and less than two hours from Brisbane.
For more information on all journeys including services scheduled for December, and to book, visit maryvalleyrattler.com.au or call the Mary Valley Rattler on 07 5482 2750.