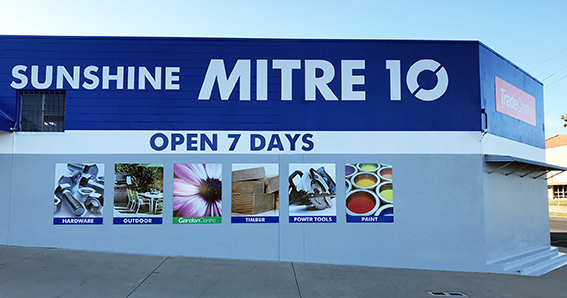 The new Sunshine Mitre 10 will be a frenzy of activity this Saturday, 26th May, with its massive grand opening sale. There will be something for everyone with incredible not-to-be-repeated prices on everything from irons and kettles to barbecues, bar fridges and treated pine sleepers.
Starting from 8am, the crew from Hits 93.9FM will be there and there will also be free hot dogs, a sausage sizzle, a coffee van, as well as face painting for the kids.
Sunshine Mitre 10 CEO Travis Cunnane said the new store represented a long term multi-million-dollar commitment to provide the most outstanding hardware retail and trade offer in the region.
"To celebrate there will also be thousands of dollars in gift cards given away through 'random acts of kindness' to customers there on the day so make sure your there for all the festivities.
"The sale will continue all weekend but get in early so you don't miss out on all the celebrations, and the great grand opening bargains," Mr Cunnane said.
The new store, which has been completely refurbished in the heart of Bundaberg, at 1 Electra Street, is employing locals to serve local Builders, Tradies and DIY/Retail customers, Mr Cunnane said.
"Sunshine Mitre10 is investing for the long term, with improvements including new and additional racking to increase our Trade and DIY/Retail product offering, with larger ranges and increased stock levels across all departments," Mr Cunnane said.
"The company was also working hard to improve the layout to make the store easier to navigate so in both the retail and trade areas you can get in, get what you need and get on with it."
The new store will feature a new Paint Colour Centre, planned according to the international best practice. We have also invested in the latest range of Power Tools, Outdoor Power Equipment including Stihl & Makita, along with an improved Garden Centre.
"Our new Trade drive through will offer a comprehensive selection of Trade Timber and Sheeting Products in conjunction with the latest ranging of Trade Fasteners and Building Supplies," Mr Cunnane said.
"Our aim is to be the preferred location in Bundaberg for Builders, Tradies, Handymen and DIYERs alike, with the convenience of undercover trade drive through. We will also offer daily site deliveries on our crane truck to Bundaberg and surrounding communities."
Sunshine Mitre10 is an 108 year old business with 14 sites throughout QLD employing over 380 staff.
"We are proud locals, employing and serving locals and we get involved in the communities in which our stores operate. This includes having local experts available to provide advice and assistance to both our trade and DIY/Retail customers," Mr Cunnane said
"We also pride ourselves on the fact that as part of the community, we get involved, sponsoring and assisting local schools, sporting communities and local charities."
The sale will continue all weekend with the store open from 8am to 4pm on Saturday and 9am to 2pm on Sunday.