Some Buderim Mountain State School students have been receiving mentoring as part of a SunnyKids sports mentoring program delivering a lot more than just activity and fitness. The program was funded by a Buderim Foundation community grant.
We know that sport is great for kids. It keeps them fit, gives them a break from computers and screens and provides opportunities for social growth. However, we are now discovering extra benefits when sporting activity is enhanced with qualified mentoring and guidance. These include improved emotional and behavioural responses.

SunnyKids CEO Chris Turner said SunnyKids has responded with the delivery of a youth mentoring program with a martial arts component which was piloted in 2015.
MEDIA DOWNLOADS & LINKS
click to download or access video links:
High Res images
Click on images – when using images please include photo credit – info in file names.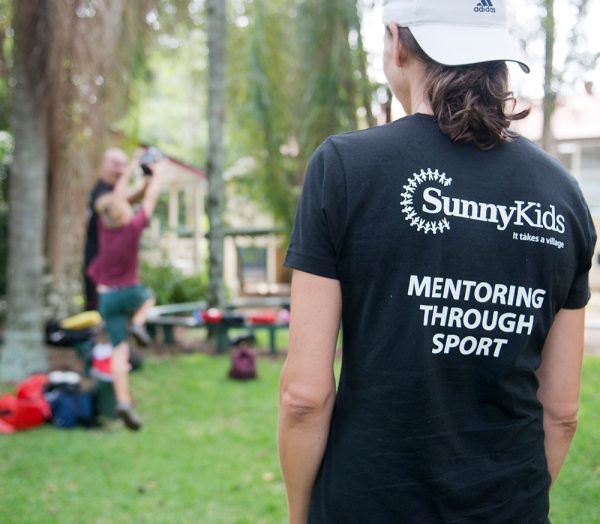 "This enabled us to gather data to support what we already knew; Mentoring Through Sport – It Really Works! We saw a group of young people increase their self-esteem, self-efficacy, and resilience. We saw this benefit extend to the wider school community and we know there was also a benefit to the childrens' siblings and their families.
"We were able to support these outcomes with survey data that confirmed 100% of students completed every session and 100% of students stated they had a noticeable increase in confidence and a better understanding of health." Mr. Turner said.
So, this year, SunnyKids is delivering a Mentoring Through Sport Program at Buderim Mountain State School with the talented team, Bobby and Katrina Wilson from Awesome Wilson Boxing.
Dave Larkin, better known as Chappy Dave, has witnessed great outcomes for the 10 boys participating in the program.
"As School Chaplain, I have seen the boys participating in the program looking forward to their Tuesday afternoons. They all get in, work hard, focus as a team and discipline themselves as individuals. To see them test their strength, fitness and performance which then, in turn, increases their self-awareness and self-esteem is so valuable." Dave said.
Buderim Foundation chair Heinz Seeberg said the mentoring program was just one of 12 community initiatives to receive a Buderim Foundation grant last year.
"It is fantastic to see the program in action and to see and hear about the benefits – providing the participating boys with skills that will help them throughout their lives."
"The Buderim Foundation is committed to supporting the community, particularly our younger people which is why we established a Youth Sub-Fund specifically used to support programs like this one."
SunnyKids works to ensure every child on the Sunshine Coast is safe, has food and shelter, feels connected and has a strong sense of belonging and a chance to become great citizens. Chris Turner says "We believe It Takes a Village to raise a child. When we come together and lift the children in our community up when they need a hand, we see great outcomes for the children and their families, which builds a stronger, more resilient and compassionate community." For more information about SunnyKids please visit www.sunnykids.org.au.
The Foundation is a philanthropic, not-for-profit organisation that seeks to build a stronger community by harnessing the power of giving and distributing grants for worthy community projects. These grants are offered annually to not-for-profit organisations providing services or undertaking projects that benefit the Buderim community. The 2017 Grants Program will open for applications on 2 June 2017. For more information visit the Foundation's website – www.buderimfoundation.org.au.