A flotilla of local boats will light up The Mooloolah River with the spirit of the season again this year for the 15th annual Mooloolaba Christmas Boat Parade, organised by Mooloolaba Yacht Club.
MYC Vice Commodore Josh Close said the Parade, starting at 6.30pm on Saturday 22nd December, will be the biggest and best yet with a record level of entries expected not only from boat owners but homeowners along the Parade route too.
"The Mooloolaba Christmas Boat Parade is a wonderful event for the club as we love bringing boaties and the community together to enjoy what can only be described as a magical sight," Mr Close said.
During the Parade, The Wharf Mooloolaba will be hosting a special outdoor broadcast from popular local radio station Mix FM, who will be running great competitions for listeners.
The Wharf Mooloolaba co-owner, Dirk Long said the Christmas Boat Parade is a particularly exciting time for everyone at The Wharf, as Stage Two of the refurbishment at the popular precinct nears completion.
"Since this time last year, we've had several fantastic new restaurants and dining options open at The Wharf, including Il Vento, La Finca, El Bigotón and Fior Di Latte, as well as retail stores – Bedouin Traders, Mikimi Resortwear and Meraki Thread Co., who are all excited to experience the Parade for the first time," Mr Long said.
"Along with the other restaurants Rice Boi, Saltwater Fish and Chippery, See Restaurant, Chances and Hogs Breath Café, and activity centres, it's a great opportunity for everyone at The Wharf to celebrate Christmas together."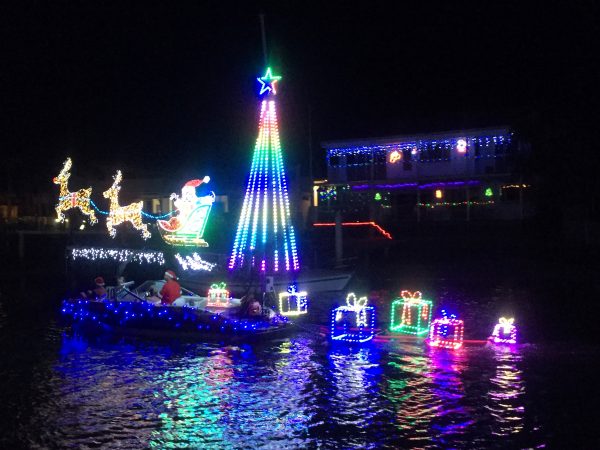 Mr Close said families and friends from across the region, as well as visitors, will gather at The Wharf, La Balsa Park and other vantage points along the river to see the Parade, which sees local boaties decorate their boats with twinkling lights and other decorations to celebrate the festive season.
"It's a lot of fun for everyone involved and some of the entrants really go all out to win one of the trophies on offer, like Best Dressed Boat, Brightest Boat, Best New Entry, Best Dressed Kids, and even Best Decorated Houses and Units," Mr Close said.
To enter the Boat Parade and find out more, visit www.christmasboatparade.net.
This year, all Parade entry fees go directly to support the Sunshine Coast branch of Rosies Friends on the Street, a Queensland-based community group offering friendship and support to some of our most vulnerable through a street outreach program.
Rosies local coordinator Carolyn Wilson said recent statistics showed nearly 900 people are sleeping rough across the Sunshine Coast.
"We are incredibly grateful for the support of the Mooloolaba Yacht Club," Ms Wilson said.
"As their charity of choice for the fantastic Mooloolaba Boat Parade our fundraising drive will receive a great kickstart towards the purchase of a new outreach van, which includes a servery and a cargo bay for the swags, toiletries and other items we connect to those in need."
This event is made possible with thanks to support from Sunshine Coast Council, Nine Sunshine Coast, Mix FM, Sunshine Coast Daily, Reflected Image PRoductions, Waterfront Agents, GT Print, Sea Life Mooloolaba, Oaks Hotels and Resorts, Adams + Sparkes, Colliers International, Blackburne Jackson, Hanrick Curran and Westpac Bank.
For more information including how to enter your house or boat visit www.christmasboatparade.net.