After a bumper summer school holidays, The Wharf Mooloolaba is celebrating the opening of its new fresh food emporium – Get Fresh @ The Wharf.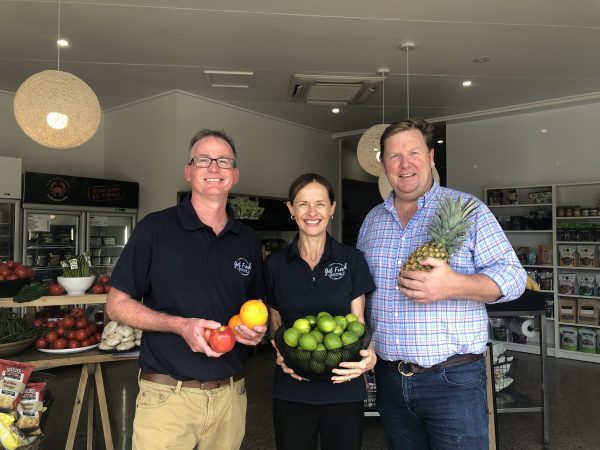 Get Fresh @ The Wharf is the first new retailer to open in 2019 at the beginning of Stage 3 of the revitalisation of the precinct and continues on from more than $10million invested throughout 2017 and 2018, which saw more than 15 new restaurants, cafes and boutiques open as the precinct was transformed to its fresh, new 'Hamptons' style.
The Wharf Mooloolaba co-owner, Evans Long Director Dirk Long said the precinct had now reclaimed its position as the place to be in Mooloolaba and the Sunshine Coast.
"When we first purchased the precinct in 2016, we looked at what it had become and what it was in its heyday in the late 1980s and early 1990s and we talked to locals about what they wanted.
"Then we made the decision to update the precinct and work to attract the right mix of tenants that would make it what it now is today.
"We are very proud of what The Wharf has become, and we have even more work planned this year which we will announce details of soon."
Mr Long said Get Fresh moving to the Wharf further expanded what the precinct had to offer.
"The Wharf offers a fantastic mix of dining, boutique shopping and activities and we want people to come and spend a Day at the Wharf – and now they can also get great fresh produce and food to either eat here or take home as well.
Get Fresh @ The Wharf owners John and Kylee O'Brien said they were thrilled to be officially opening the new store.
Mr O'Brien said Get Fresh had been around for 10 years, with the O'Briens purchasing the business, previously located at Cotton Tree, two and a half years ago.
"We bought the business because we wanted something centred around healthy living and something that we could do as a family so all our children (aged 18, 16, 14 and 11) all work with us," Mr O'Brien said.
Mr O'Brien said Get Fresh stocks only premium quality seasonal produce – we work with selected growers and we only take the highest-quality fruit and vegetables so if it isn't high quality, we won't stock it.
Mr O'Brien said they were excited to be relocating to The Wharf Mooloolaba.
"We were looking around for a new location for about six months and we kept being drawn back to The Wharf – we love the way the precinct has been revitalised.
"A real destination has been created here with a great mix of restaurants, shops and bars. It's a place people are really excited to come and there is great vision and passion from Dirk and his team as well as all the businesses here."
"Moving Get Fresh to this location has allowed us more space and to create the store exactly as we want it to be including extending our produce and deli lines and also introducing a coffee, juice and smoothie bar."
Mr Long said already the revitalisation has seen visitor numbers to the precinct significantly increase to more than 500,000 a year.
"With more locals visiting more often and increasing numbers of visitors exploring the precinct, we expect this to continue to increase."
"People can come and enjoy a great day at The Wharf, choosing from the great activities and attractions like river cruises, scuba diving, snorkelling and kayaking, visiting the attractions at SEALIFE, and just taking some time to shop and eat.
"Where else can you choose from such a great variety of dining options all with stunning river-front or harbour views."
"You really can do everything at The Wharf Mooloolaba – meet, eat and explore!"
Only a few leasing opportunities for a mix of boutiques, casual dining and services such as barbers and other offerings remain. Contact Transact Property Services for details – call on +61 7 5353 6044 or email info@transactpg.com.au.
For more information about The Wharf Mooloolaba including upcoming events, like or follow @thewharfmooloolaba on Facebook or visit www.wharfmooloolaba.com.au.