The latest brainchild of Sunshine Coast award-winning chef and restaurateur Tony Kelly, Spero Greek Street has thrown open its doors at The Wharf Mooloolaba.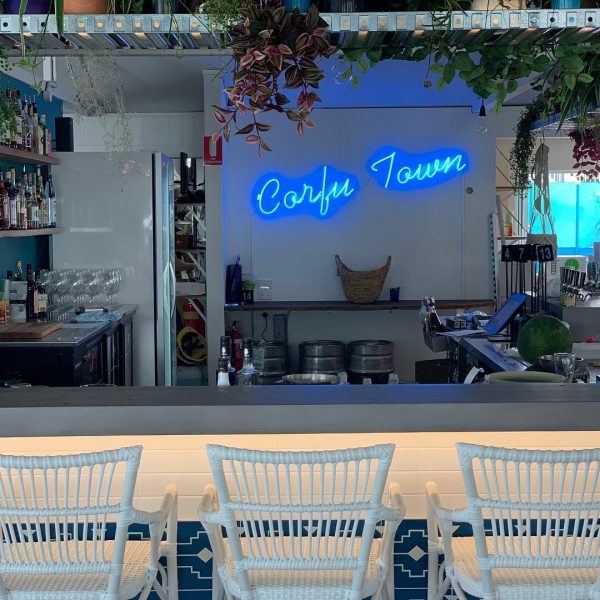 The latest new eatery at what is once again the place to be on the Sunshine Coast, Spero will offer an authentic Greek dining experience.
Tony Kelly said the Urban dictionary defines Spero as an uncomfortably good-looking Greek muscle man, and while the name was created out of a sense of ironic humour, it certainly fits the restaurant which has been described as Rice Boi's prettier sister (or brother as the case may be).
Like Rice Boi, Spero is a partnership with chef Mitch Smith and restaurant manager Elyza Molloy and when deciding what type of restaurant to launch, Greek was the only choice.
"While more recently with Junk and Rice Boi, we have focused on Asian food, my training and background is European, and Mitch and Elyza have both travelled extensively in Greece.
"So when the opportunity to open another restaurant at The Wharf he jumped at it, so we could create the type of family-owned beach style restaurant you might find in Cofu Town.
"Like Rice Boi, we will be open from 11.30am 'til late every day and while we won't take reservations, we have a great bar area out the front where people can relax and wait for a table," Tony said.
He said he wanted to offer a dining experience that didn't have to cost a fortune, and Spero certainly delivers with the menu dishes ranging from just $10 to $22.
The menu includes Greek favourites but goes far beyond as well, with a selection from from tzatziki, calamari, Spannikoppitta, Greek Meatballs, to Saganaki Grilled Cheese which is crispy pan fried kefelgraviera cheese with lemon and wild oregano or confit lamb shoulder with pomegranate glaze, tzatziki, lemon potatoes and olive oil.
Or if you can't decide then there are Terracotta plates with selections sure to satisfy.
The bar also offers a Greek selection from traditional Ouzo, and beers including Mythos and Yammas, a summer-style large blended for Spero by Kirin Brewery.
The restaurant is just the latest to open at The Wharf since its more than $10million refurbishment started more than two years ago.
The Wharf Mooloolaba co-owner Dirk Long said Spero would be a great addition to The Wharf with the new eatery welcoming people into the precinct from its position opposite Sea Life and next to the marina.
"It's really satisfying to see people coming to the precinct to check it out, with locals returning again and again to try all the great eateries, shop in our new fashion and homewares precinct and also experience some of the great adventures from river cruises, to whale watching and scuba diving," Mr Long said.
Mr Long said there was more planned for the precinct with a new area to be unveiled soon, as The Wharf Mooloolaba and Sea Life prepare for their 30th Birthday Celebrations in August.
To stay up to date on everything happening at The Wharf Mooloolaba, check out the new website – www.wharfmooloolaba.com.au – and follow The Wharf Mooloolaba and Spero on Facebook and Instagram.