Those attending Foote Sanctuary for this year's Buderim Commemoration of Remembrance Day will see considerable changes, including a new memorial to Sgt Eric Foote M.M. (Military Medal) after whom the area is named.
The volunteers who maintain and enhance the Sanctuary with weekly working sessions have constructed a new covered sign which features Eric's life and military service on one side and background to the establishment and history of the volunteer organisation on the other.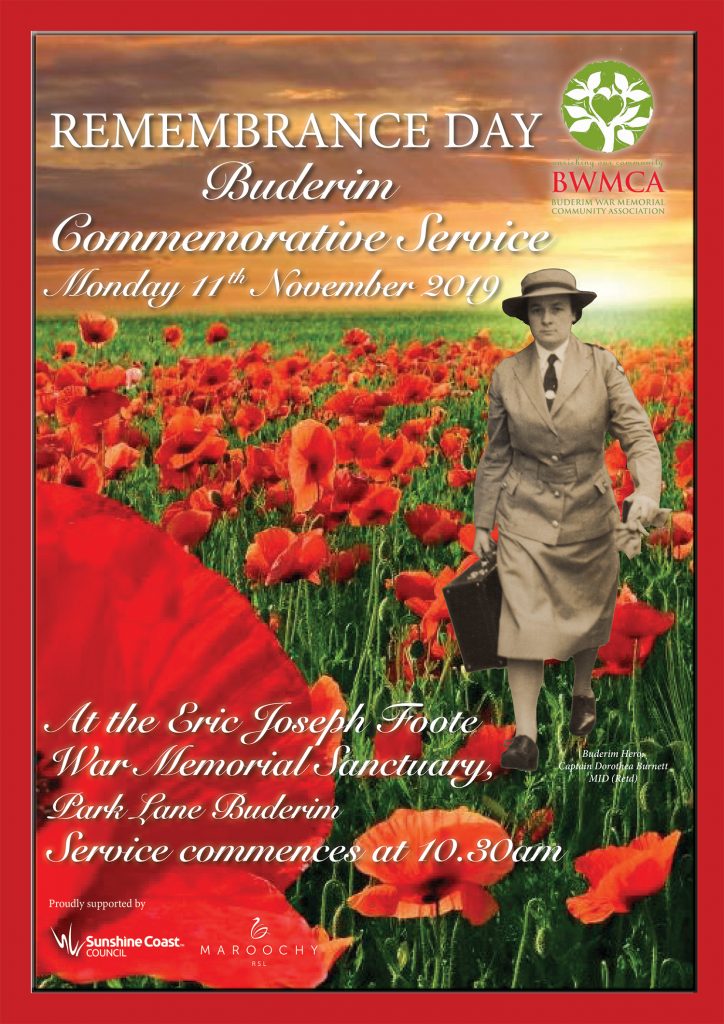 The memorial tells of Eric Foote growing up on the farm, then going off to France as a volunteer in the First Australian Imperial Force in World War 1. He was Killed In Action (KIA) in September 1916 in a battle on Mouquet Farm near the Somme River, in France, earning his Military Medal for bravery during this action.
The Sunshine Coast Council which is responsible for major works has recently considerably upgraded the picnic and bbq area.
The eight-hectare Sanctuary was originally part of the pioneering Foote family's large agricultural holding of over 100 acres which was first worked in 1907. Activities included raising dairy and beef cattle, crops of bananas and other fruits and coffee. When in the 1940's the family started to sub divide the property they gave the Sanctuary area to the people of Buderim in memoriam to Eric.
In the early 1960's the Foote Sanctuary Association was formed and the farm land was gradually restored to its original rain and gum forest with walking paths and a picnic area.
Buderim's Remembrance Day, first commemorated in 1919, was moved to the Foote Sanctuary 15 years ago.
REMEMBRANCE DAY 11/11/19
Buderim's Remembrance Day Commemorative Service will be held as in past years at the E.J.FOOTE WAR MEMORIAL SANCTUARY in Park Lane Buderim on Monday 11 November beginning at 10.30 am.
The service will be led by Major Brett Green (Ret'd) a veteran of service abroad. The Remembrance Address will be given by Vietnam veteran Mr John English. The ode will be read by Warrant Officer Graeme Smith (Ret'd) who also served overseas. All three are members of BWMCA's ANZAC & REMEMBRANCE Day Sub-Committee. The Poem "In Flanders's Fields" will be read by Mr Brent Mickleburg MP also an overseas veteran. A Tribute to this year's Buderim Hero Captain Dorothea Burnett M.I.D. (Ret'd) will be read by Committee Member Geoffrey Hole. The Buderim Mountain State School Choir and String Ensemble will provide the music for the service.
concludes.