John Dahl of Buderim was 44 years old and let it be known when he signed up for the Australian army in 1916 that he was disappointed that the younger generation were obviously "…too scared and not patriotic enough" to join the fight.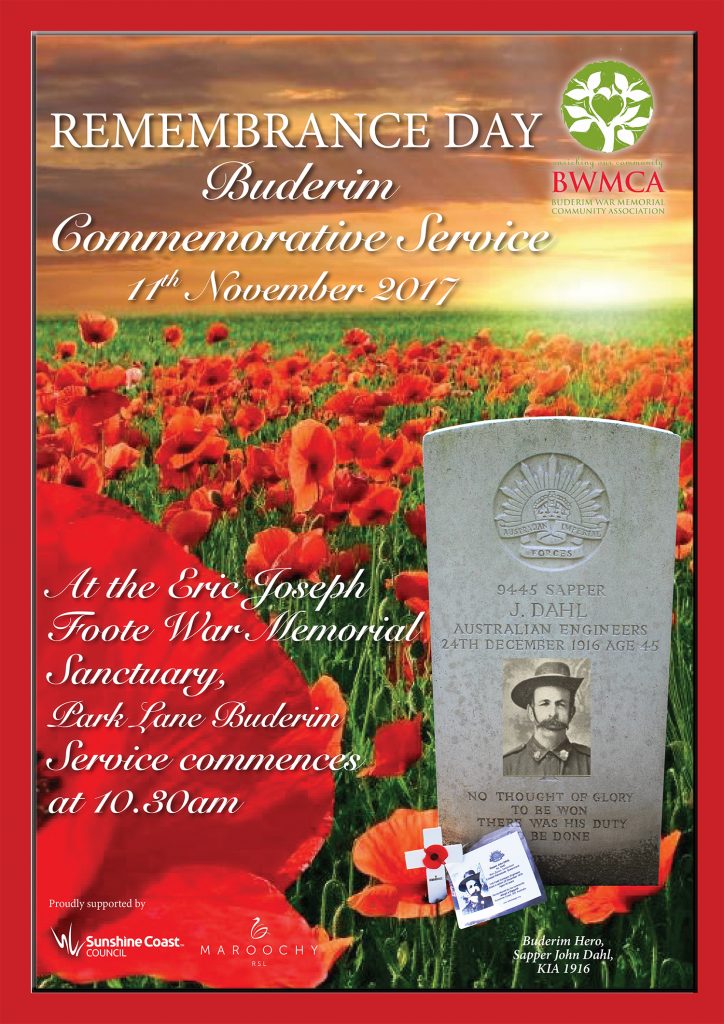 His life, and death, in action will be recalled at this year's Buderim Remembrance Day commemoration on November 11.
Each year the Buderim War Memorial Community Association's ANZAC and Remembrance Day Committee chooses a Buderim Hero to be remembered along with over 60,000 of his comrades who died in World War 1.
We know how John Dahl felt about the shortcomings of younger people not entering the services because he was interviewed by the local correspondent of the Brisbane Times, a friend of his, before he left for the Western Front in France.
It is rare that such sentiments were recorded and he also said that he had to say that he was younger than his 44 years to get into the services.
He was a widower with a young son when he left for France as a Sapper in the 11th Field Regiment of Engineers and was killed in action by artillery fire on Christmas Eve 1916.
He had been working as a labourer on Queensland Railways from the time he was 17 to support his widowed mother and three sisters eventually ending up in Palmwoods. .
He had left the railways and started a small fruit orchard at Mons in his 30's becoming a well known identity in Buderim and a strong supporter of the Palmwoods Railway prior to going off to war.
His newspaper friend said of him "He was one of the men Queensland can ill afford to lose; His many friends will regret his untimely but noble end."
The service is held in the E.J.Foote War Memorial Sanctuary in Park Lane off Fountain Street Buderim beginning at 10.30am.
It will be lead by retired Army officer Drew Milled and music will be provide by Buderim Mountain State School Choir and String Ensemble.
EVENT:  BUDERIM REMEMBRANCE DAY COMMEMORATION
WHEN:   SATURDAY NOVEMER 11 AT 10.30 AM
WHERE:  ERIC FOOTE WAR MEMORIAL SANCTUARY, PARK LANE, off FOUNTAIN STREET BUDERIM
MEDIA DOWNLOADS & LINKS
High Res images
Click on images – when using images please include photo credit – info in file names. More images available on request – email michelle@reflectedimage.com.au.