This weekend SUNREEF Mooloolaba will celebrate its first swimming with whales experience with an open weekend at their Mooloolaba headquarters.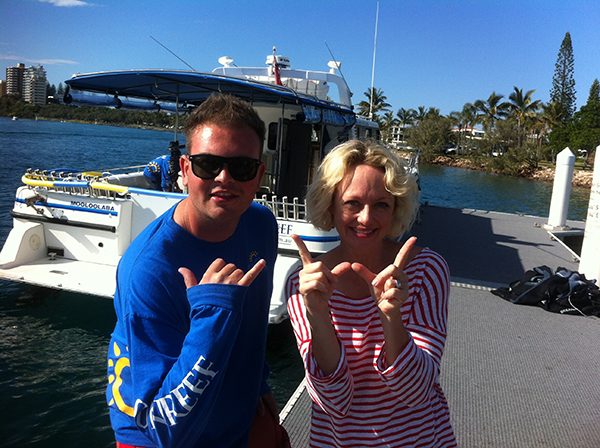 On both Saturday 5th and Sunday 6th July, the Sunreef team will open their doors for a weekend filled with family fun activities.
The celebration will see media personality, Shelley Craft on the first official boat out to swim with the whales on Saturday, 5th July.
Sunreef Whale Encounter Supervisor, Dan Hart said that he is delighted to have Shelley Craft take part in the weekend's activities.
"Shelley will be on the water, interacting with other participants and asking them about their experience after the swim," Dan said.
Shelley said she shared a love of whales with her dad and she had been lucky enough as a travel reporter to see many whales in different environments around the world including Antarctica.
"I have never had the opportunity to swim with the whales before. Kayak yes, watch from the boat, yes. Never swim!
"I believe this is a wonderful opportunity for Queensland tourism and I know that Sunreef have all the right intentions and systems in place to make sure that the whales wellbeing is of foremost importance," Shelley said.
Dan said for those who are curious about swimming with humpback whales, this weekend is a great opportunity to head into the Sunreef Mooloolaba shop, have a chat to staff and check out everything else Sunreef have to offer.
"We have a brand new dive tank where people can come along this weekend and try scuba diving in a secure and safe environment.
"Kayaks and stand-up paddleboards will also be available to use in the canals at the back of our shop. For the kids we have the bubble maker program which introduces them to the experience of scuba diving through games and activities," Dan said.
Participants who take part in the swim with the humpback whales experience can expect a three-hour round trip with a maximum of 20 participants taken on each trip.
Sunreef provide a full briefing on what to expect and safety procedures as well as providing all required wetsuit and snorkeling equipment.
Once a whale is sighted, the boat will be put into neutral 100m or more away from the whale, and if the conditions are determined as safe by our trained crew, the boat will be turned off and swimmers will be allowed into the water holding on to the floating line attached to the boat.
"Then it's all up to the whale – it is a natural experience and it is 100% on the whale's own terms," Dan said.
The Sunreef open weekend will also feature stalls from PADI, Oceanic, Scuba Pro, Hollis, Cressi and Apollo.
"We are offering people the opportunity to swap and sell their dive gear, once we sell the secondhand gear at the price set by the customer we will provide the customer with 50% of the agreed sell price in cash and the remaining 50% as a store gift card for our Sunreef store," Dan said.
HOT 91.1 will also be broadcasting from the Sunreef store on Sunday and will do live crosses to the boat throughout the morning.
The open weekend will be held at Sunreef Mooloolaba, 110 Brisbane Road, Mooloolaba from 9am to 5.00pm on both Saturday and Sunday.
Sunreef is a PADI 5 Star Training Centre and offers accredited dive courses for all levels of divers as well as local reef dives in the Sunshine Coast region including the ex-HMAS Brisbane and offers international dive trips and travel as well as dive equipment sales and servicing.
The whale swimming and watching operations work out of Mooloolaba at the heart of Queensland's beautiful Sunshine Coast.
It takes about 10 minutes from the Sunreef dock to get out on the beautiful waters off the Coast, which are at their best during the winter months when the whales migrate.  Water temperatures during this time range from 17 to 23 degrees C and visibility is regularly up to 30 metres.
Sunreef Scuba Diving Services, based in Mooloolaba is the longest established dive centre on the Sunshine Coast (Queensland, Australia) with roots starting back in 1976.
For more information on Sunreef and swimming with the whales visit www.sunreef.com.au or call 07 5444 5656.