Despite temperatures expected to hit the mid-30's, snow is forecast for parts of Gympie next week, with the arrival of an interactive Christmas-themed Snow Globe at Sunshine Mitre 10's Langton Street store.
Lightly filled with artificial snow, the inflatable Globe can comfortably accommodate up to 5 people and will be instore over two Saturdays in December, the 15th and 22nd between 9am and 2pm.
Much like a Santa photo, the Snow Globe is the ideal setting to capture the magic of Christmas, but one that comes at no cost.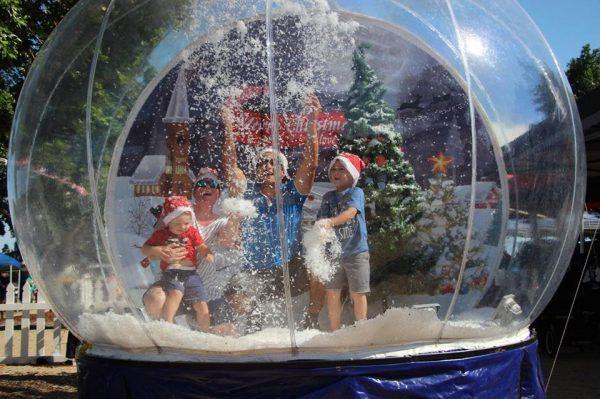 Sunshine Mitre 10 CEO Travis Cunnane said customers were welcome to come along to the Gympie store with their own camera or smart phone, and a Santa hat, to take photos of themselves and loved ones inside the Snow Globe.
"At Sunshine Mitre 10, we love getting into the spirit of Christmas, and we love it when our customers do too" Mr Cunnane said.
"December can be an expensive time for families and this year, we wanted to give people visiting our Gympie store the opportunity to take away a lasting memory without impacting their hip pocket.
"The spirit of the season is about celebrating each other, and having fun, and what better way to capture that feeling than by piling into a giant inflatable and throwing some snow around – especially when it's a scorcher outside!"
The unique attraction is the latest installment of Sunshine Mitre 10 Gympie's well-known annual Christmas display, which again this year includes a custom-built Christmas Village clad entirely in black to showcase their wide range of illuminated decorations.
Sunshine Mitre 10 Head of Merchandise Paul Barber said the response to the Gympie Christmas Village has been overwhelming.
"People of all ages are delighted when they enter what is a darkened room lit up with all the colours of Christmas, but it's the little kids especially who love it," Mr Barber said.
"This year we've broadened the range and scale of our decorations, we've got everything from 1-metre wide baubles to 3-metre high inflatable Santas, LED acrylics suitable for indoor or outdoor use and 45 different types of table decorations, which are proving to be our most popular product.
"The Christmas Village is a really unique experience we've brought to Gympie that no one else has."
Sunshine Mitre 10 is a 108-year-old business with 16 sites throughout QLD employing over 420 staff.
"We are proud locals, employing and serving locals and we get involved in the communities in which our stores operate," Mr Cunnane said.
"This includes having local experts available to provide advice and assistance to both our trade and DIY/Retail customers.
"We also pride ourselves on the fact that as part of the community, we get involved, sponsoring and assisting local schools, sporting communities and local charities."
The Sunshine Mitre 10 Snow Globe will be onsite at the Gympie store at 3 Langton Road 4570, Saturday 15th and Saturday 22nd of December between 9am and 2pm.
Entry to the Sunshine Mitre 10 Gympie Christmas Village, along with the opportunity to take your own photo inside the Snow Globe, is free.