Join the hundreds of people who have already enjoyed a day at the farm at Yabbaloumba Retreat, at their special Christmas Farm Day on Saturday 19th December.
Owners Barb and Lloyd Campbell love to throw open their gates to their picturesque 200-acre property at Cambroon, near Kenilworth, which is a working farm with a wide range of animals including lambs, geese, goats, a horse, a pony, cows, pigs, and more.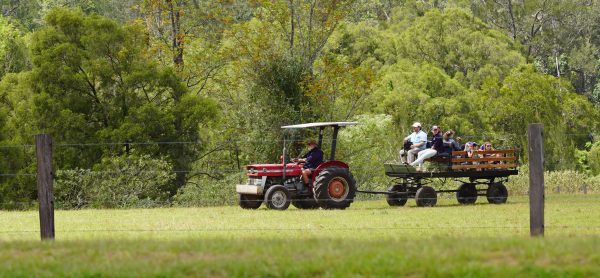 Families can enjoy a self-guided tour around the property to feed and pat the animals and get a real experience of farm life. There are also lawn games, free face painting and tractor cart tours to feed the cattle, and free festive kids' activities in the Barn.
The special Christmas Farm Day will be held on 19th December from 9am to 1pm.
Property owners Lloyd & Barb Campbell said the Farm Days were a great opportunity for kids to learn about where their food comes from and experience a different kind of life.
"We love our open space, so we wanted to invite everyone to experience farm life – to feed and pat the animals, enjoy some great fresh and locally-made food and just relax," Barb said.
Lloyd said with COVID-19, life has changed for so many and they want the Farm Days to be an opportunity for people to take some time out for themselves and their family and friends.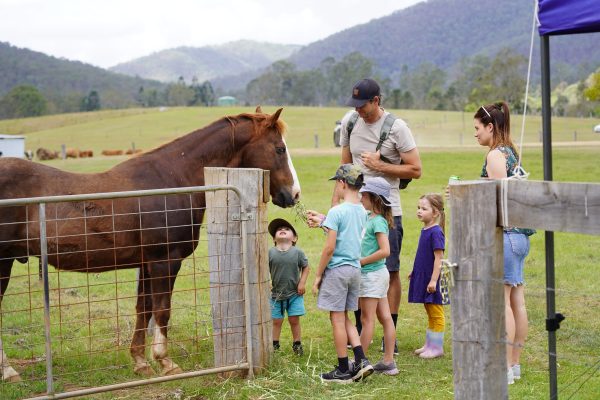 "We are also proud to have an R U Ok? Blue Tree on our property – they are painted trees that stand out in the rural landscape to prompt people to talk about mental health and ask, "R u Ok?"," Lloyd said.
"It's just a reminder for everyone to look after each other and to seek help if they need it," Lloyd said.
The property has a COVID-Safe plan and for this event, tickets will only be available online. Tickets are $20 for adults, $10 for kids up to 12-years-old or there are family passes (2 adults and up to 3 kids) for $60. All tickets include entry to the property and one bag of animal feed.
Picnic lunches, morning or afternoon tea will also be available to pre-order online and available from the Barn Café on the day. The fare will include croissants, muffins, sausage rolls, quiche, tarts, brownies, coffee, tea, milkshakes, soft drinks and more.
Yabbaloumba Retreat is also a Bed & Breakfast and wedding and function venue. For more information and tickets for the event visit www.yabbaloumbaretreat.com.au.