Suncoast Spinners Wheelchair Sports Club member and coach James Hill has been named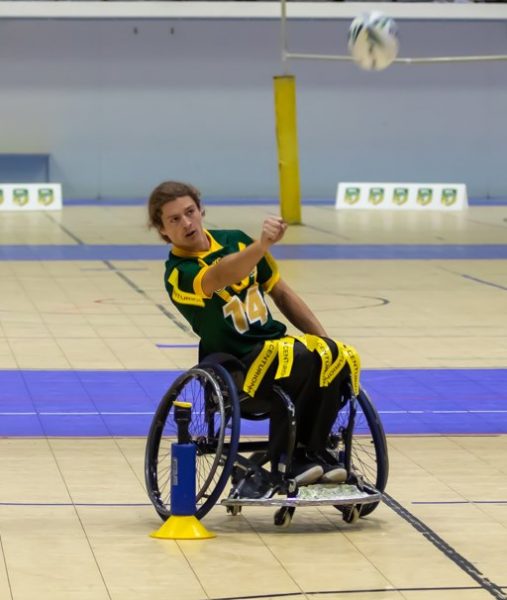 as part of the Australian team for the World Cup Wheelchair Rugby League competition in the United Kingdom later this year.
Suncoast Spinners president Bridie Kean said everyone at the Club was really excited for James, who plays wheelchair rugby league as well as playing and coaching wheelchair basketball.
"This is the second time James has been selected to play for Australia and he has also played for Queensland in State of Origin competitions," Bridie said.
James, 23, has been playing wheelchair sport since 2014 after accompanying a friend to a social game. He said at Sunshine Coast Spinners, Reverse Inclusion, where able-bodied people were encouraged to play together with those in a wheelchair to develop a truly inclusive sport, was a key part of their mission.
"Allowing everyone to play together creates more opportunities for both players with a disability and able-bodied players as well."
James is one of five able-bodied athletes selected as part of the 13-man squad. The Wheelaroo team includes athletes with a disability – Brad Grove, Peter Arbuckle, Adam Tannock, Liam Luff, Rick Engles, Craig Cannane, Zachary Schumacher, able-bodied athletes Bayley McKenna, Cory Cannane, Diab Karim, Shaun Harre and James Hill, as well as shadow player Jason Attard.
The team has already trained together at a camp following the State of Origin clash in January.
Wheelaroos Head Coach Brett Clark said the camp was a great opportunity to ensure the team was in top form as Australia prepared to compete against England, France, Norway, Scotland, Spain, Wales and the USA.
James said he had really enjoyed training with the team and was really looking forward to representing Australia again.
"Last time I got to play as part of the Ashes competition in Australia in 2019 so the competition in the UK later this year will be my first time travelling internationally with the team," James said.
"Having the opportunity to play wheelchair rugby league with the best in the world at top-level competition is going to be a real challenge, and I'm really looking forward to it."
James said he was also really grateful to have such strong support from the Suncoast Spinners and his family.
"We have such a great club here on the Sunshine Coast, where everyone of any ability is encouraged to come and play either wheelchair rugby or wheelchair basketball.
"I'm also really excited that my family is going to be travelling to the UK to cheer me on," he said.
Suncoast Spinners provides social wheelchair rugby and basketball programs and are open to everyone. To find out more visit the Suncoast Spinners website – suncoastspinners.com.au – or visit them on Facebook @thespinners.