The Sunreef Women's Sailing Team representing Mooloolaba Yacht Club will be competing for the first time at the Australian Women's Keelboat Regatta (AWKR) this year.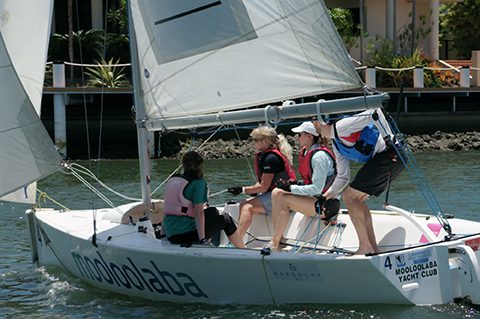 The Regatta, hosted by the Royal Melbourne Yacht Squadron from June 9 to 11, is Australia's premier and longest running women's regatta, with teams from around Australia and New Zealand to compete this year in the 28th annual event.
Mooloolaba Yacht Club (MYC) representative Tracey Johnstone said the Club was excited to be have its women sailors participating for the first time.
"Sending a team to a regatta like this is a big undertaking, which has been made possible thanks to invaluable sponsorship by Sunreef Mooloolaba and the Sunshine Coast Council," Mrs Johnstone said.
"We have the MYC training boats for inshore skill work and some club member's boats for offshore training. The club also has two club members who have stepped up as coaches –  2012 Canadian Olympic Laser Radial class representative Danielle Kennedy and offshore champion sailor Stuart Kennedy."
Mrs Kennedy said the skills development program on the MYC Elliot 6s had already started with enthusiasm from both the AWKR and skills development women.
"There will also be fortnightly offshore which will further prepare the women for competition," Mrs Kennedy said.
MEDIA DOWNLOADS & LINKS
click to download or access video links:
High Res images
Click on images – when using images please include photo credit – info in file names.
Ms Johnstone said the MYC is pleased that last year's Queensland Department of Sport and Recreation sponsored skill development program has successfully enthused women sailors from across the coast to take up the opportunity to get back into sailing competitively.
"I know there are women out there who have sailed before and want to get back into it, as well as more women who have always wanted to try it," she said
"This is the perfect opportunity – whether you want to try out to be part of the team or just participate in the skills development program.
"For those sailors who miss out on the team for Melbourne, we are planning on supporting another team to contest the Women's Regatta in Townsville in September. So, the door to the program is open to all who are interested in participating."
Sunreef Mooloolaba's Dan Hart said they are pleased to be supporting the team.
"We are dedicated to providing training in scuba diving and also outdoor recreation so this is the perfect fit for us," Dan said.
Anyone wanting more information on the Sunreef Women's Sailing Team or the Women's Skills Development program can visit www.mooloolabayachtclub.com.au or call the Club on 0413 227 013. You can also follow the team on Facebook – https://www.facebook.com/Sunreef-Womens-Team-representing-Mooloolaba-Yacht-Club-1968551656727094/