South East Queensland's largest scuba diving centre,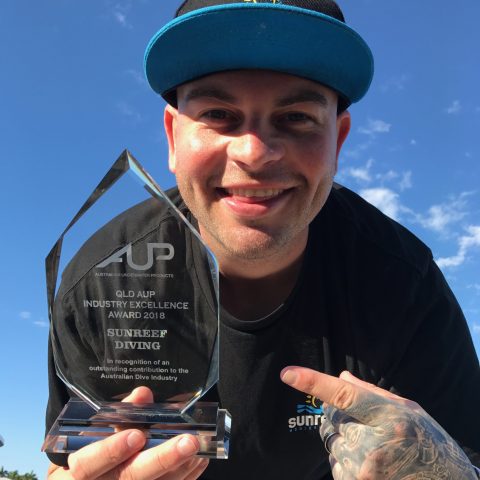 Sunreef Mooloolaba has be recognised nationally taking out the Australian Underwater Products (AUP) 2018 Award for Outstanding Contribution to the Scuba Diving Industry.
In fact, this is the sixth year, Sunreef Mooloolaba have been recognised at the Awards, part of the AUP National Conference for the dive industry.
Sunreef Mooloolaba owner Dan Hart said they were thrilled to again be recognised at the AUP Awards.
"For us it's recognition of all the great work done by all of our team. We are like a family and Sunreef Mooloolaba so we couldn't do it without all our staff."
"The AUP Conference is a key event for us every year – it's a chance to connect with our scuba dive industry colleagues from around the country and also hear all the latest developments in the industry."
AUP General Manager Scott Chapman said the industry excellence award Sunreef received was recognition for all the work the company does in a very competitive market.
"Scuba diving is a fantastic adventure sport but there is a lot of competition in adventure sports in Australia and internationally and Sunreef Mooloolaba do a great job of generating awareness and interest in scuba diving.
"It's also recognition of Sunreef's commitment to our ocean environment, both in what they do in how they run their business but also in how they promote conservation to their customers."
Mr Chapman said Sunreef's diversification to become Australia's first Swimming with Humpback Whales back in 2014, and this year adding whale watching and adventure hire to their offering, was a great example of how they help introduce people to scuba diving.
"Sunreef's expansion, growth, and the staff they employ are all a credit to them, as is the work they do through social media to share their love of scuba diving and all things aquatic," Mr Chapman said.
"For us as a distributor and manufacturer, it is important for us to support our retailers, our relationship with our retailers goes beyond just selling products – we are all invested in scuba diving and introducing more and more people to the incredible adventures available in our marine environment."
The Award comes at a great time for Sunreef, having just acquired Whale One, in time for the Whale Watching season which officially starts this weekend (Saturday 2nd June).
Whale watching tours will run every day (weather permitting) and cost just $69 for adults and $49 for children and it's expected to be a bumper season, with about 33,000 whales expected to migrate through Sunshine Coast waters this year, with the population increasing by approximately 10% per year.
Sunreef's fifth Swim with Humpback Whales season will then begin on 6th July, giving people an opportunity to get a different perspective again of these majestic mammals of the ocean.
Sunreef also continues to offer scuba dive courses, diving on the incredible ex-HMAS Brisbane wreck, regular snorkelling and scuba diving trips to Flinders Reef as well as to local Sunshine Coast reefs.