Sunreef Mooloolaba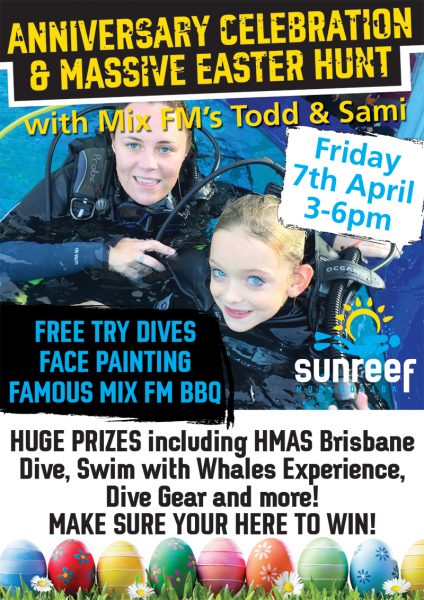 are throwing a massive party to celebrate the one-year anniversary of its move to the Wharf Mooloolaba.
There will be Free Try Dives in their special dive tank, face painting, MIX FM's famous BBQ and Lolly Bar – as well as a MASSIVE Easter Egg Hunt with more than $5,000 in prizes to be won.
Sunreef's Dan Hart said it has been a great year for the company since its move. "We are continuing to grow and are seeing more and more people coming diving with us and we are also looking forward to our fourth Swim with Humpback Whales season starting in July," Dan said.The Sunreef Dive Centre at the Wharf Mooloolaba caters for the growing demand for all Sunreef Mooloolaba's water-based activities and they invested more than $250,000 in fitting out the centre which includes a larger store, dedicated training area as well as the great dockside location which means customers can be fitted out with gear and then jump straight on-board the Sunreef boats for their aquatic adventure, with more convenient parking available as well.
To celebrate the anniversary and to thank the Sunshine Coast community for its support, Sunreef will be hosting a party this Friday (7th April) from 3pm to 6pm with special guests Tim and Carly from Mix FM who will be doing a live broadcast.
"Sunreef is now the largest Dive Centre in South East Queensland, which we believe will help bring more divers to the region and have a flow on effect for the local Mooloolaba tourism and hospitality community.
"We promote the Sunshine Coast internationally and have thousands of visitors each year – both for the world-class diving at HMAS Brisbane, Flinders Reef and for our unique Swim with Humpback Whales experience, which was Australia's first.
"We love being part of the Sunshine Coast's tourism industry and collaborating with our colleagues to promote the region."
Sunreef Mooloolaba is a 5 Star PADI Training Centre and offers accredited dive courses for all levels of divers as well as local reef dives, snorkelling trips and diving on the ex-HMAS Brisbane. Sunreef also plans and guides international dive trips and travel as well as dive equipment sales and servicing.
To find out more visit www.sunreef.com.au or call 07 5444 5656. We look forward to seeing you at the opening.
EVENT DETAILS
EVENT:            Sunreef Mooloolaba Wharf Anniversary Party & Massive Easter HuntDATE:               Friday, 7th April 2017
DATE:               Friday, 7th April 2017TIME:
TIME:               3pm to 6pmLocation:          Sunreef Mooloolaba, THE WHARF Mooloolaba, 123 Parkyn Parade, Mooloolaba
Location:          Sunreef Mooloolaba, THE WHARF Mooloolaba, 123 Parkyn Parade, Mooloolaba