SUNREEF Mooloolaba are excited to be sharing their love of humpback whales by giving visitors the opportunity to swim with these magnificent creatures.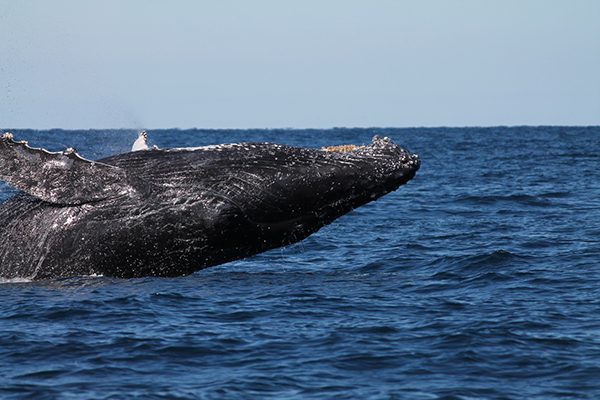 But Sunreef's Swim with Whales encounters – an Australian 1st – are not just about giving people the opportunity to see the giants of the sea from a new perspective.
Sunreef Whale Encounter Supervisor Dan Hart said Sunreef was also dedicated to assisting with research and conservation of whales.
"The more people know about whales, the more likely they are to love them like we do and want to see them protected world wide.
"Teaching our guests about whales and also giving them the opportunity to see them up close, gives people a new understanding of these mammals," Dan said.
"If a guest wasn't a whale advocate before and are lucky enough to have a whale swim close to them then they definitely become one.
"I love seeing and hearing everyone's reactions when it happens.  We see the whales from the surface and then you will hear people squealing excitedly through their snorkels as they swim past – its just takes your breath away every time!"
Dan said that Sunreef also keep two spots available on every boat so whale researchers could go out and conduct their own research.
"We are working with researchers from the University of the Sunshine Coast who want to find out more about the whales, and also study people's reactions to the encounters," he said.
University of the Sunshine Coast whale researcher Dr Deborah Milham-Scott said she had been studying humpback whales for more than two decades, and was delighted to have the opportunity to do some research so close to home.
This year more than 20,000 humpback whales, identified as the Area 5 whales, are expected to migrate up the east coast of Australia and back down to the Antarctic, with numbers expected to increase by about 10 per cent each year.
Dr Milham-Scott said like people and their fingerprints, each individual whale could be identified by the unique markings on the underside of their tail and on their dorsal fin.
"By taking photos of the whales tails and fins we can help the Pacific Whale Foundation to record the migration of different whales.
"In the past records have mostly been collected from Coffs Harbour, Byron Bay, Hervey Bay and the Whitsundays but having new information from the Sunshine Coast will fill in a vital gap," Dr Milham-Scott said.
She said in addition Sunreef were working to record whale song using hydrophones.
"Whale vocalisations are unique to each whale group – for example the song of the Area 5 whales is different to the Area 6 whales (which migrate up the west coast).
She said the songs were thought to only be sung by the males, and used for communication, navigation and attracting a mate.
"At the beginning of each migration, the lead male will start with the song from the previous season and the other males copy him, possibly to try to emulate his breeding success.
"Throughout the season the song evolves with subtle changes being made as it is repeated so it will be great to have more information on this," Dr Milham-Scott said.
Sunreef guests also have the opportunity to get involved with the research as well – contributing their own photos and videos to help with the whale identification program.
The University of the Sunshine Coast is also currently establishing other research programs. One will study people's emotional reactions when they encounter whales, and what impact this has on their opinions about whale conservation. A study of the economic impact of this new tourism venture is also being considered.
Dan Hart said the whale season, which runs from June through to November, was now nearing its peak so it was a great time to get out and see these animals up close.
The Sunreef Swim with Whale encounters started for the first time this year and offer a great experience in the crystal clear open waters off the Sunshine Coast.
Participants who take part in the swim with the humpback whales experience can expect a three-hour round trip with a maximum of 20 participants taken on each trip.
Sunreef provide a full briefing on what to expect and safety procedures as well as providing all required wetsuit and snorkeling equipment.
Once a whale is sighted, the boat will be put into neutral 100m or more away from the whale, and if the conditions are determined as safe by our trained crew, the boat will be turned off and swimmers will be allowed into the water holding on to the floating line attached to the boat.
"Then it's all up to the whale – it is a natural experience and it is 100% on the whale's own terms," Dan said.
"Sometimes the whales swim past or dive so we don't get to see them from in the water but other times they swim closer to check us out.
"Many of our clients have managed to capture remarkable footage of their encounter with the Humpbacks, with some swimming within a few meters of our clients," Dan said.
Sunreef is a PADI 5 Star Training Centre and offers accredited dive courses for all levels of divers as well as local reef dives in the Sunshine Coast region including the ex-HMAS Brisbane and offers international dive trips and travel as well as dive equipment sales and servicing.
It takes about 15 minutes from the dock to get out on the beautiful waters off the Coast, which are at their best during the winter months when the whales migrate.  Water temperatures during this time range from 17 to 23 degrees C and visibility is regularly up to 30 metres.
Sunreef Scuba Diving Services, based in Mooloolaba at the heart of the Sunshine Coast, is the longest established dive centre  in the region with roots starting back in 1976.
For more information on Sunreef and swimming with the whales visit www.sunreef.com.au or call 07 5444 5656.