SUNREEF Mooloolaba will be running a very special Earth Hour Submerged Dive on the ex-HMAS Brisbane to celebrate Earth hour on March 28, 2015.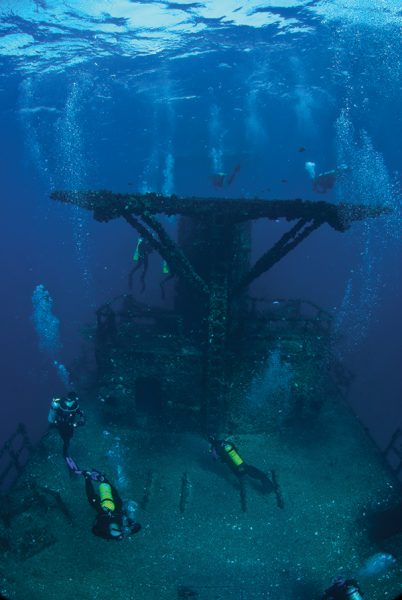 In support of Earth Hour and for the first time, Earth Hour Submerged will see a collective of Dive Shops offer special night dives around the country to highlight the importance of global warming, and get people thinking about what they can do to help.
As part of Earth Hour Submerged, Sunreef divers Jess and Renee will take a small group of divers to the ex-HMAS Brisbane for a very special night dive.
Sunreef General Manager, Dan Hart said it was a great opportunity for passionate divers to enjoy a great night dive while raising awareness for a global cause.
"We will be dropping into the water just on dusk so our divers can experience the change as darkness sets in and then we will be using energy-efficient light sticks to guide everyone around the wreck, with a special short "lights-off" experience in recognition of Earth Hour.
"Night dives are an exhilarating and completely different experience to day-time dives. You will see different sea life including many nocturnal creatures you will not see during the day.
"This includes many crustaceans and phosphorscence which glow a distinct green colour during darkness.
"If you are really lucky you might see a Parrot Fish blow a mucus ball out its mouth, which creates a bubble around them that hides their scent so they can sleep easy through the night and be less of a target for predators," Dan said.
"Divers are all passionate about our oceans and the environment so this is a unique way for us to come together as a community and raise awareness of global warming and the need for everyone to look at what they can do to help," Dan said.
"Earth Hour Submerged is also definitely taking it one step further from switching off your TV and lights at home!"
Earth Hour has become an annual event since it was hosted in Sydney in 2007, with an aim to raise awareness about climate change.
Earth Hour 2015 is at 8.30pm on Saturday 28th March.  The Sunreef Earth Hour Submerged ex-HMAS Brisbane will start at dusk.  It is anticipated that over 162 countries and territories worldwide will participate in the Earth Hour event.
Sunreef is a PADI 5 Star Training Centre and offers accredited dive courses for all levels of divers as well as local reef dives in the Sunshine Coast region including the ex-HMAS Brisbane and offers international dive trips and travel as well as Swim with the Whales experience, dive equipment sales and servicing.
Sunreef Scuba Diving Services, based in Mooloolaba is the longest established dive centre on the Sunshine Coast (Queensland, Australia) with roots starting back in 1976.
For more information on Sunreef and the Earth Hour night dive visit www.sunreef.com.au or call 07 5444 5656.