SUNREEF Mooloolaba will be running a very special Earth Hour Submerged Dive on the ex-HMAS Brisbane to celebrate Earth hour on March 19, 2016.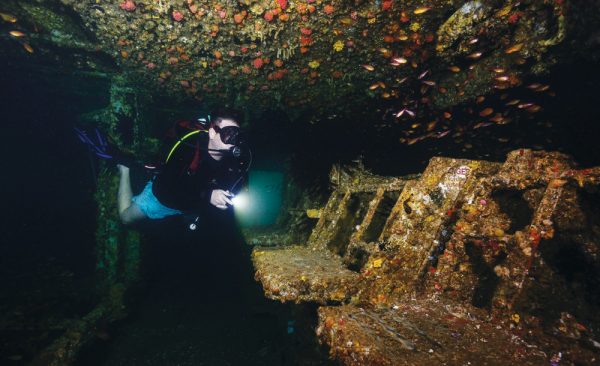 Sunreef will head out for a night dive and turn off our lights for one minute on dusk to bring awareness to the Earth Hour campaign. For those who can't make the dusk dive, Sunreef will also host a morning dive, also on March 19, which will discuss climate change on the boat ride out the ex-HMAS wreck.
Sunreef owner, Dan Hart said while millions around the world are showing their appreciation for our terrestrial planet, the divers who go on this adventure with Sunreef will create awareness and show respect for our Oceans.
"We will be out there capturing moments before and after our one minute of darkness and hash tagging #earthhoursubmerged #placeswelove #earthhour on social media to help spread the conservation message and bring awareness to the cause.
"As divers, it is our duty to give our Oceans a voice, to tell the world that we care about climate change and the impact it has on our oceans and marine life," Dan said.
"We will be dropping into the water just on dusk so our divers can experience the change as darkness sets in and then we will be using energy-efficient light sticks to guide everyone around the wreck, with a special short "lights-off" experience in recognition of Earth Hour.
"Night dives are an exhilarating and completely different experience to day-time dives. You will see different sea life including many nocturnal creatures you will not see during the day.
"This includes many crustaceans and phosphorscence which glow a distinct green colour during darkness.
"It's a daunting but exhilarating minute with lights off underwater. We first participated in the inaugural Earth Hour Submerged last year and everyone who came out really enjoyed it," Dan said.
Climate change is affecting ocean temperatures, the supply of nutrients, ocean chemistry, food chains, wind systems, ocean currents and extreme events such as cyclones. All of these, in turn, affect the distribution, abundance, breeding cycles and migration of marine plants and animals that billions of people rely on for food and income.
This year, 7000 cities in 162 countries will take part in this year's Earth Hour events with a theme of "Places We Love".
Sunreef is a PADI 5 Star Training Centre and offers accredited dive courses for all levels of divers as well as local reef dives in the Sunshine Coast region including the ex-HMAS Brisbane and also offers Australia's First Swimming with Humpback Whale Experience from July to October, and also runs international dive trips as well as dive equipment sales and servicing.
Sunreef Mooloolaba is the longest established dive centre on the Sunshine Coast (Queensland, Australia) with roots starting back in 1976.
For more information on Sunreef visit www.sunreef.com.au or call 07 5444 5656.