The Sunshine Coast Wanderers Football team is proud to announce the coaches for the Senior Mens and Womens for the 2020 season.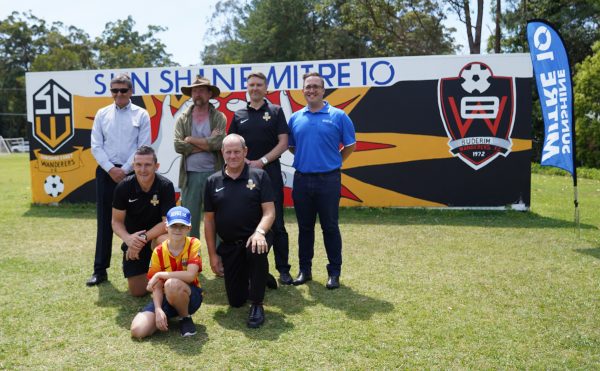 The Club is also pleased to welcome back Sunshine Mitre 10 as their naming sponsor for the third season – support that has helped the club to grow and flourish and unveil their new practice kickboard which has been painted with a new mural.
The 2020 season is shaping up to be a very exciting one, especially for the Senior Men's team, who will be making their debut in the National Premiers League, off the back of their 2019 Football Queensland Premier League win.
Sunshine Coast Wanderers General Manager Craig Williams said 2019 had been a great year for the Club throughout all the age groups, but particularly successful for the Senior Mens team, who took out the Football Queensland Premier League (FQPL) competition, qualifying them to enter the National Premiers League (NPL) for 2020.
"This was a fantastic achievement for the team and for their coach Paul Arnison, who we are very pleased to announce, will be continuing as coach in 2020 – which is particularly important as he continues to develop the team as it enters the NPL," Mr Williams said.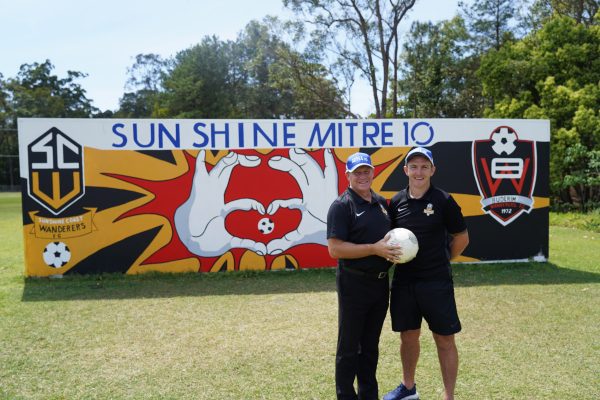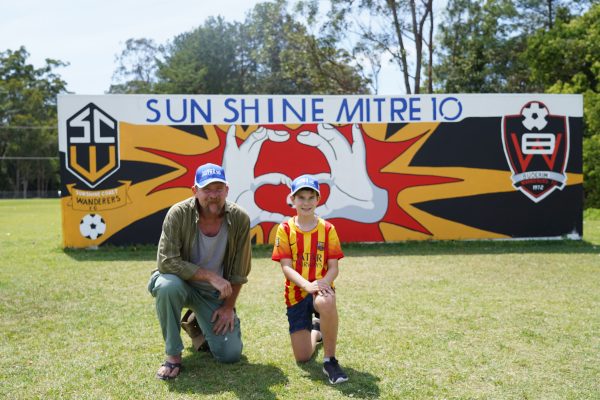 Senior Mens Coach Paul Arnison said the team was fantastic during the 2019 season and he looks forward the challenges of 2020.
Mr Arnison joined the Club at the beginning of 2019 after an illustrious career playing football in Australia and abroad and of course led the team to their FQNL premiership win this year.
"I am really looking forward to continuing to work with our Sunshine Coast bred, local players and to taking them to the National Premier League Competition which will showcase local players on the biggest stage possible.
"The NPL includes 15 of Queensland's best teams including playing powerhouse clubs like Olympic, Strikers and Lions. It also means that every game in 2020 will be live-streamed.
"We are already heavily into our preparations and look forward to making some exciting player announcements soon," Mr Arnison said.
Mr Williams said he was also very pleased to announce that Glen Johnston will be joining the Sunshine Coast Wanderers and head coach of the Senior Womens team from Caloundra Football Club.
After moving from the Central Coast of NSW 18 months ago, where Mr Johnston was heavily involved in Women's football, he was quick to renew his association with the game joining Caloundra FC as Vice President (Women) and coaching both the Women's Premier League team and the Girls U14 team in 2019.
"I have a passion for Women's Football having coached all three of my daughters," Mr Johnston said.
"I originally received my coaching qualifications in NSW in 1995 and have been coaching at a variety of levels (both men and women) ever since. My focus, along with the other coaching staff, is to create a culture of teamwork, football excellence and learning."
Mr Williams said as the Club grows, they were thrilled to have Sunshine Mitre 10 on board as Platinum sponsor for the third year in 2020.
"Sunshine Mitre 10 came on board as our inaugural Platinum sponsor in 2018 so they have been supporting us from the very beginning," Mr Williams said.
"The Sunshine Mitre 10 sponsorship is very important for us – not only does it provide support our senior teams, it also provides investment in our junior boys and girls programs, given us the opportunity to invest in upgrading facilities and infrastructure at the club which benefits our players."
Sunshine Mitre 10 marketing operations manager Nick Brind said they were very pleased to continue their support of the Sunshine Coast Wanderers Football Club.
"We are absolutely delighted continue our commitment to the Sunshine Coast Wanderers as they prepare for a massive 2020 season of football," Mr Brind said.
"At Sunshine Mitre 10, we love to lend our support to all kinds of community groups in all the communities in which we operate and with football the world's most popular sport it's just a natural fit.
"We hope through our support, the Club continues to excel at the senior level, but also to help provide a training pathway for juniors as well."
Mr Brind said in addition to the 2019 sponsorship they were also proud to coordinate the Design a Kickboard Competition held earlier this year – and to today unveil the new kickboard with the competition winner 11-year-old Benjamin Powell, and mural artist Dale Etheridge.
Benjamin won a $500 Sunshine Mitre 10 voucher, a Sunshine Coast Wanderers' jersey and a personal invitation to all SCWFC games in 2019.
Benjamin said he was really excited to see his design unveiled.
Mr Etheridge said he was pleased with the mural, having previously considered himself someone with a passion for drawing rather than an artist.
"I really enjoyed bringing Benjamin's design to life on the 2-metre wide kickboard," Mr Etheridge said.
"Art had always been a hobby until four years ago when I suffered a stroke and was diagnosed with Leukemia within five days of each other. Now, after dealing with mental illness for the last couple of years, my artwork has taken on more of a therapeutic role in my life."
Mr Brind wanted to congratulate both Bejamin and Mr Etheridge on the kickboard.  "Benjamin's design is fantastic and Mr Etheridge has really brought it to life on a large scale."
Mr Williams said the kickboard (also called a rebounder) was great.
"It really brightens up our practice area and also provides some great kicking targets for all our players to practice on."