Queensland Environment Minister, Andrew Powell will go head-to-head with Sunshine Coast Mayor Mark Jamieson in the ultimate decider at the Real Food Festival cook-off on Saturday, 13th September.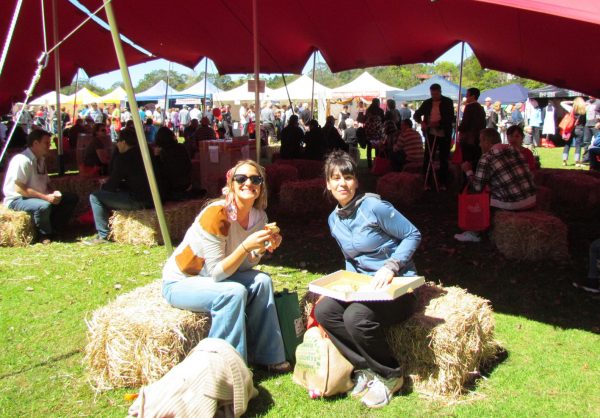 'The Mayor & The Minister' cook-off will start at 11.30am in the Kunara Real Food Kitchen and will be facilitated by Free Ranging Chef, Peter Wolfe. Minister Powell secured the win last year while in 2012 Mayor Mark Jamieson took out the title.
Festival Director, Julie Shelton said the cook-off would see the culinary skills of both men put to the test.
"The cook-off is always entertaining and adds excitement to the already buzzing festival atmosphere," Julie said.
"Mayor Mark Jamieson and Minister Powell are now both experienced winners in the cook-off arena with both having proven they have the skills and determination to take out the cook-off," Julie said.
Mayor Jamieson and Minister Powell will need to reproduce a dish Chef Peter creates using bushfoods and local ingredients.  The criteria for judging will include technique, presentation and, of course, taste.  Federal member for Fisher, Mal Brough, will be on hand to help make the final decision on who will take out the decider.
The Mayor and the Minister are great supporters of local food producers and the Real Food Festival, which is now in its fourth year.
This year's program will include fascinating demonstrations, talks, interactive workshops and kids activities.  The Food for Thought venue will offer perspectives on key issues for our region, Food Craft will show kitchen tips and techniques, Nourishing Ideas will focus on diet and health, the Kitchen Garden will give practical advice on gardening, and the Little Sprouts area will inspire kids to develop a lifelong passion for good food.
 "The Real Food Festival is about authenticity and enjoying nourishing and delicious food that has been grown and prepared right here in our beautiful Sunshine Coast backyard," Julie said.
The Real Food Festival will be held at the Maleny Showgrounds, 13 Stanley River Road, Maleny on 13 & 14 September from 9am to 4pm daily and will showcase an abundance of good foods from Sunshine Coast producers, manufacturers and restaurants.  Entry is $20 for a daily adult pass and children under 16 are free.
For more information on the Real Food Festival, or to register your interest, visit the website at www.realfoodfestivals.com.au.