Sunshine Coast Mowers is set to expand, continuing the family legacy in memory of David Cook who passed away earlier this year after battling cancer.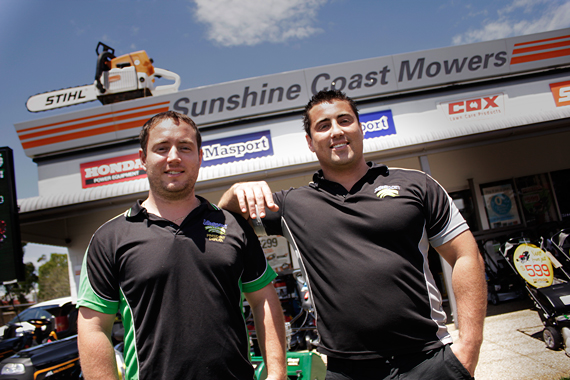 Hayden Cook was just finishing his mechanical apprenticeship when his Dad saw an opportunity to purchase a local mower store.
And 12 years on, despite a very difficult year for the family, the Mooloolaba business is growing, now expanding with the opening of a second store at Caloundra.
Hayden and his brother Gerard have been running the business together since their Dad retired when he became ill a couple of years ago, and now their brother-in-law James has joined them.
"We have customers all over the region but there was continuing strong demand from the Caloundra area so we decided to open a second shop there."
Hayden said that his dad loved the day-to-day activity of the business and he wanted to continue the traditions and passion of customer care that his Dad had instilled in him and his brother.
"Dad was semi-retired when we bought the business together but he loved it so much he would come into the store on his day off.  When he wasn't at the store he loved to go fishing with us or take our whole family out water skiing together. He just loved being with family.
"We really wanted to continue Dad's legacy and love for the store, so we've been working extremely hard the last six months to open a new store in Caloundra that will run along side our Mooloolaba store," Hayden said.
The new store will offer the same range of products and services that the Mooloolaba store offers and it will also be a John Deere agent on the Sunshine Coast.
Hayden said that both the Mooloolaba and Caloundra stores will offer customers a variety of outdoor power equipment including walk behind & ride on mowers, chainsaws, generators, pumps, brush cutters and will continue to provide full servicing and repairs of equipment.
"To celebrate the Caloundra store we will have some great opening specials including the STIHL FS38 Line Trimmer $188 plus free STIHL esky which is Normally $249.00, the STIHL BG56 Leaf Blower now $249.00 with a Free STIHL esky and $100 off selected mowers."
"What started out as Dad and I, has now grown to 10 staff members, and we are proud to say we service equipment of any make/model and provide a peace of mind warranty on products we sell," Hayden said.
The new Caloundra store is located at 31 Caloundra Road,
Caloundra and will open on December 1. The new store can be contacted on 07 55444 2577.  The Opening specials will run from December 1 to December 6.
Sunshine Coast Mowers stock a great range of brands such as Stihl, Honda and John Deere, with products including lawn mowers, whipper snippers, leaf blowers, generators for camping, chainsaws, pressure cleaners and spare parts.  For more information call Sunshine Coast Mowers on 07 5444 2577 or visit www.sunshinecoastmowers.com.au