Popular local sporting team the Sunshine Coast Wanderers Football Club have joined forces with Queensland's largest independent hardware chain, Sunshine Mitre 10, in the search for a budding artist to design an illustration for a vital piece of equipment ahead of the start of the 2019 season.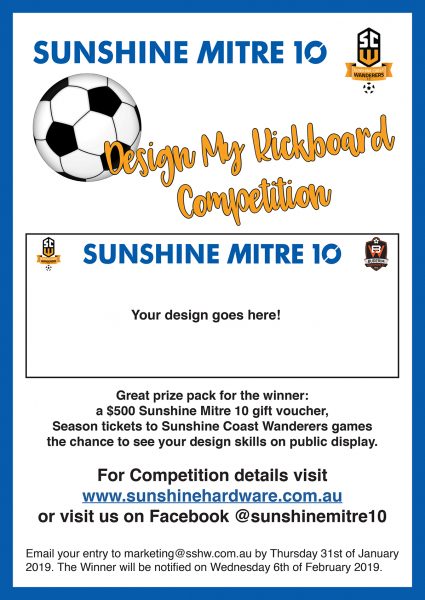 As the Club's Platinum Sponsor, Sunshine Mitre 10 is generously donating a $500 gift voucher as part of the prize, with the group's CEO Travis Cunnane saying the competition was a great way to connect the wider community with the sporting group.
"Sunshine Mitre 10 is delighted to be the major sponsors of the Sunshine Coast Wanderers, and this competition is an extension of our support for the club, and the community," Mr Cunnane said.
"We're used to seeing our customers express themselves creatively through DIY and home improvement, so we're looking forward to seeing the kind of design entrants come up with using a different sort of paints, pens, pencils or even digital tools."
The winning illustration will feature prominently on the Sunshine Coast Wanderers' kickboard, also known as a rebounder, one of the most visible surfaces on the pitch at over 8 metres long and over 2 metres high.
Along with the $500 Sunshine Mitre 10 gift voucher, the winning entry will be awarded a Wanderers' jersey and a personal invitation to all SCWFC games.
Wanderers' General Manager, Craig Williams, said the brief for the illustration was quite simple.
"We're looking for an awe-inspiring, eye catching design for our players to take aim at," Mr Williams said.
"When you listen to many of the world stars in football talk about their early years honing their skills, a kick rebound wall played a major part in their development.
"Our club participates in both senior and junior leagues, and we love representing the Sunshine Coast when we play throughout the year at games across South East Queensland."
Based at Ballinger Park in Buderim, the Sunshine Coast Wanderers Football Club (SCWFC) is home to representative teams for Football Queensland Premier League (FQPL), National Premier League Women's Queensland (NPLW) and the Skill Acquisition Program (SAP), an elite competition for players aged U9 to U12.
To enter your illustration in the SCWFC's kickboard competition, simply head to the Sunshine Mitre 10 website, sunshinehardware.com.au, download the template and email your design to the address listed on the website.
The competition is open until Thursday 31st of January 2019, with the winner to be announced early in February.
For more information on how to enter, as well as full list of Terms and Conditions, head to sunshinehardware.com.au.