The Buderim Village Park will once again come alive with festive spirit, with the community coming together for Buderim Community Carols on Sunday, 12th December.
Organisers are even more excited than ever to be preparing for Carols this year, after COVID-19 caused their cancellation in 2020.
With pre-show entertainment from 6.00pm for a 6.30pm start, Rosanna Natoli from 7NEWS Sunshine Coast will return as MC along with a special appearance by Santa Claus, locals and visitors alike are invited to join in on the popular annual event, hosted by the BWMCA and Bendigo Community Bank Buderim.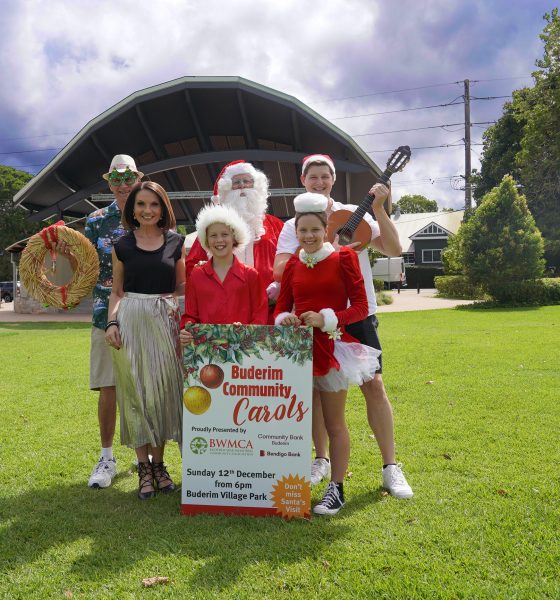 BWMCA Carols organiser Andrew Butterworth said the Buderim Community Christmas Carols would be directed by local entertainment professional Riley Cope, with performances by Buderim Youth Theatre of Excellence (BYTES), Sunshine Coast Youth Choir and Cope Creative.
"We are very excited about this year's Buderim Community Carols, which has traditionally heralded the beginning of the festive season for the local community," Mr Butterworth said.
"The past 20 months has been challenging so we feel like there is even more reason to come together as a community and celebrate".
"We welcome everyone to gather their family and friends and come along for a great sing-a-long".
"Along with Rosanna Natoli returning as MC, we have some great live acts performing and there will be many Carols for everyone to sing along with too".
"We hope the Buderim community will join in on the spirit of peace and goodwill as we head into Christmas."
Bendigo Community Bank Buderim branch manager Peter Macdonnell said the Carols would once again be a great way to welcome in the festive season and come together as a community.
"We are so fortunate to have such a talented line up of performers and the stage facilities make Buderim Village Park a spectacular venue," Mr Macdonnell said.
"It will be a very special event and one which the Bank again is very proud to support."
Rosanna Natoli said she was really looking forward to sharing the event with the people of Buderim. "I simply adore Christmas and carols in particular.  It's not often we can come together as a community to celebrate something as pure, universal and heartfelt as the joy of sharing time with family and friends at this time of year. "I love singing and candlelight – so to be able to combine them for an evening is simply heaven for me!", Rosanna said.
Also supported again this year by 104.9 Sunshine FM, the celebration will also include a range of food and snacks for sale. There will be a Sausage Sizzle courtesy of the barbecue experts at the Rotaract Club of the Sunshine Coast, with glow stick candles and products and other treats.  There will also be Fairy Floss for sale thanks to the Buderim Foundation, popcorn thanks to the Buderim Mountain State School P&C, with each organisation raising funds from sales.
Entry is by Gold Coin Donation, so bring your picnic rugs or chairs and come and share the night with us. In the event of severe weather, the show will go on, in the Buderim War Memorial Hall next to the park.
The event is made possible through the generous support of event partners, the Bendigo Community Bank Buderim and through their grants program the Sunshine Coast Council, Hopkins Manttan Solicitors, the Rotary Club of Buderim, Reflected Image PRoductions, Cope Creative, JPG Print and Design, Fenwicks Fruit Emporium, and 104.9 Sunshine FM.
This year in addition to printed programs, there will also be electronic programs available via QR code so you can get Carol lyrics on your phone or mobile device.
To keep up to date with weather conditions in the lead up to the event stay tuned to 104.9 Sunshine FM and the BWMCA Facebook page – www.facebook.com/buderimwarmemorialcommunityassociation.