As work on The Wharf Mooloolaba revitalisation continues, construction has begun on two more restaurants that will make up part of the Sunshine Coast's hottest new dining precinct.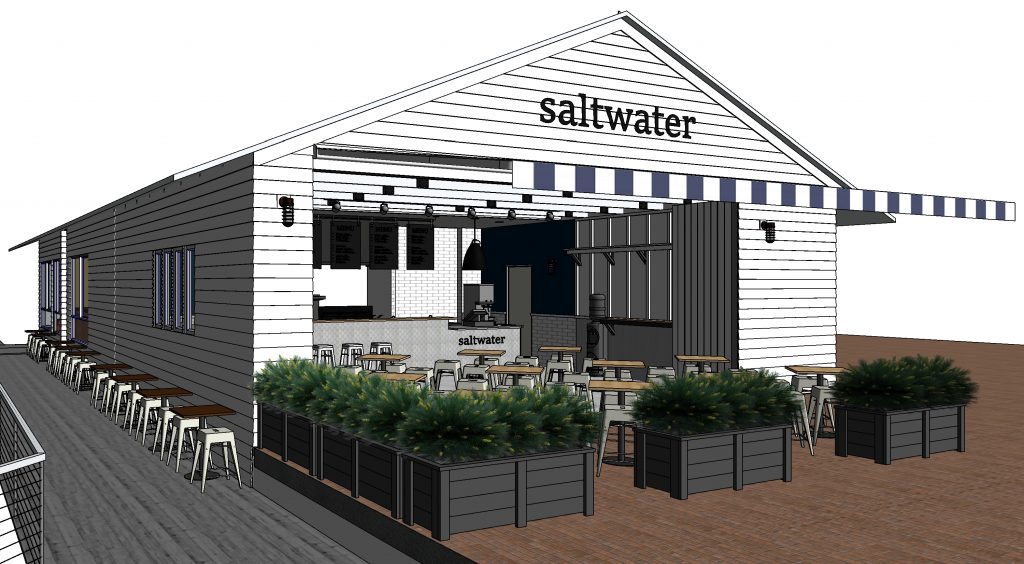 The two new restaurants to be launched by award-winning Queensland chef and restauranteur Tony Kelly will offer Asian street food as well as a "Hamptons-style" Fish and Chippery.
The restaurants are part of a $10million refurbishment project for The Wharf precinct, according to Dirk Long, co-owner of Evans Long.
"The Wharf Mooloolaba was once the beating heart of Mooloolaba in terms of entertainment, retail and tourism and we are committed to restoring it to that position.
"Tony's two new restaurants together with The Dock Mooloolaba, a new 350-seat restaurant which is also under construction, the long-established Sea Restaurant and the new Chances, mean The Wharf Mooloolaba will have something for everyone," Mr Long said.
"Where else can you choose from such a great variety of dining options all with stunning river-front or harbor views.
"The new restaurants really will bring The Wharf back to the huge gathering place it was in its heyday – whether it be bringing the kids down for lunch or relaxing into the evening with friends and family as the sun sets over the river."
MEDIA DOWNLOADS & LINKS
Images
Click on images – when using images please include photo credit – info in file names.
Tony Kelly, creator of Junk and Hello Harry and former executive chef at Stokehouse Q and The Wine Bar, said Rice Boi will offer trendy urban Asian street food while Saltwater would be all about classic fish and chips, done right.
"When you think Rice Boi, think dumplings, boas and a good selection of curries with everything made in-house – and nothing priced over $20," Mr Kelly said.
"Saltwater is simply my take on a classic Fish & Chippery – as well as fish and chips for under $10 per person, we will have freshly shucked oysters, calamari as well as a great range of beer and wine to enjoy with them."
Tony said he had fond memories of coming to The Wharf Mooloolaba with his family for ice cream, dinner or to hang out at the marina.
"The Wharf was an epic place to come and I am really pleased to be part of bringing it back to that," Mr Kelly said.
Mr Long said already there had been significant work on the precinct.
"We have done a lot of restoration and painting to the buildings which is continuing and we have just completed renewing the board walk between Chances, The Dock and Sea Restaurant.
"All this work including the opening of all three new restaurants will be completed in time for the festive season which will make celebrations at the Mooloolaba Boat Parade on Saturday 16th December.
"Imagine enjoying a great meal, right on the water and watching the spectacular parade of boats in all their Christmas lights."
Mr Long said the refurbishment works so far had provided local construction jobs and would continue to do so into the new year as work continues.  The new restaurants will also offer a significant number of employment opportunities.
2018 will see a continuation of works with the remainder of the site right up to The Wharf Tavern enjoying a facelift in the first half of next year.  Opportunities exist to lease space with a mix of boutiques, casual dining and services such as barbers, hairdressers and other offerings being sought.
To stay up to date on continuing work at the Wharf as well as the opening dates for all the new restaurants check out The Wharf Mooloolaba's new website – www.wharfmooloolaba.com.au.
Both restaurants will be open for dine in and take away from late November – watch The Wharf Mooloolaba, Rice Boi and Saltwater Facebook pages for updates.