Thousands turned out to celebrate the grand opening of the new flagship Sunshine Mitre 10 store, in the same town where the company's 110-year history began, on Saturday.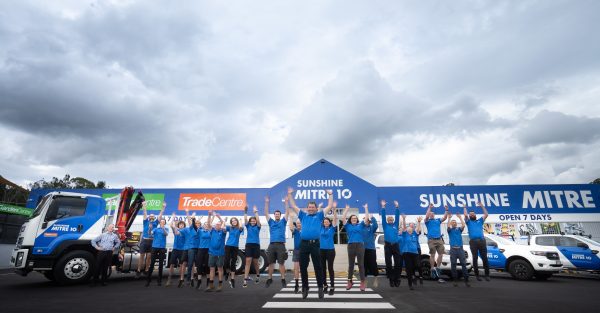 Sunshine Mitre 10 general manager Neil Hutchins said it was very satisfying to see the community turn out for the opening of the new 13,000 square metre site opening.
"It really was a great day with everyone coming to check out the new store, grab some bargains and also enjoy the fun including face painting, a balloon artist for the kids, a sausage sizzle, coffee, Boost Juice and more."
Employing 40 staff, the new site at 980 Nambour Connection Road, includes 4,000 square metres under-roof and is one of the largest in the Sunshine Mitre 10 network, with extensive retail product and trade supply through their well-managed trade drive-through experience.
"This new flagship store includes all the latest brands and products and showcase the best hardware product available. The site has everything you need to get in, get out, and get on with it and the entire project has been meticulously designed to provide the customer with the ultimate hardware shopping experience," Mr Hutchins said.
The new store features dedicated departments around building and hardware, coupled with extensive homewares, electrical, hand and power tools, kitchens, painting and decorating, gardening and outdoor, appliances and plumbing and all the dedicated trade products and services Sunshine Mitre 10 is known for.
Mr Hutchins said while Sunshine Mitre 10 had been expanding throughout Queensland in recent years, opening the new Nambour store was special because of the company's connection to Nambour. Sunshine Mitre 10 grew from a merger between Lanham's and Melco's, with the company's origins starting with a timber mill started by Walter Lanham in Price Street in 1910.
The opening celebrations also included The Block's Jimmy and Tam who talked with customers and signed autographs.
Mr Hutchins said Jimmy and Tam have been working with Sunshine Mitre 10 creating a very special space just for staff.
"At Sunshine Mitre 10 our staff are like family, with generations of the same families working in the business together, so at the new store we wanted to create a new lunchroom where staff could relax and Jimmy and Tam have created that space for us."
"The new lunchroom is really stylish but also functional with a large kitchen, dining areas and another area to relax, as well as locker and bathrooms.
"Our staff are really important to us so it's great to see them so happy with the new space," Mr Hutchins said.
Mr Hutchins said Sunshine Mitre 10 would continue to operate the existing Court Road store for the convenience of the local community and work to transition the 75 years of loyal customers that exist at that site, across to the new location.