Whether it's Asian Street Food or the Coastal-inspired Fish & Chips Eatery, The Wharf Mooloolaba is now the place to go with the opening of two new restaurants by award-winning Queensland chef Tony Kelly.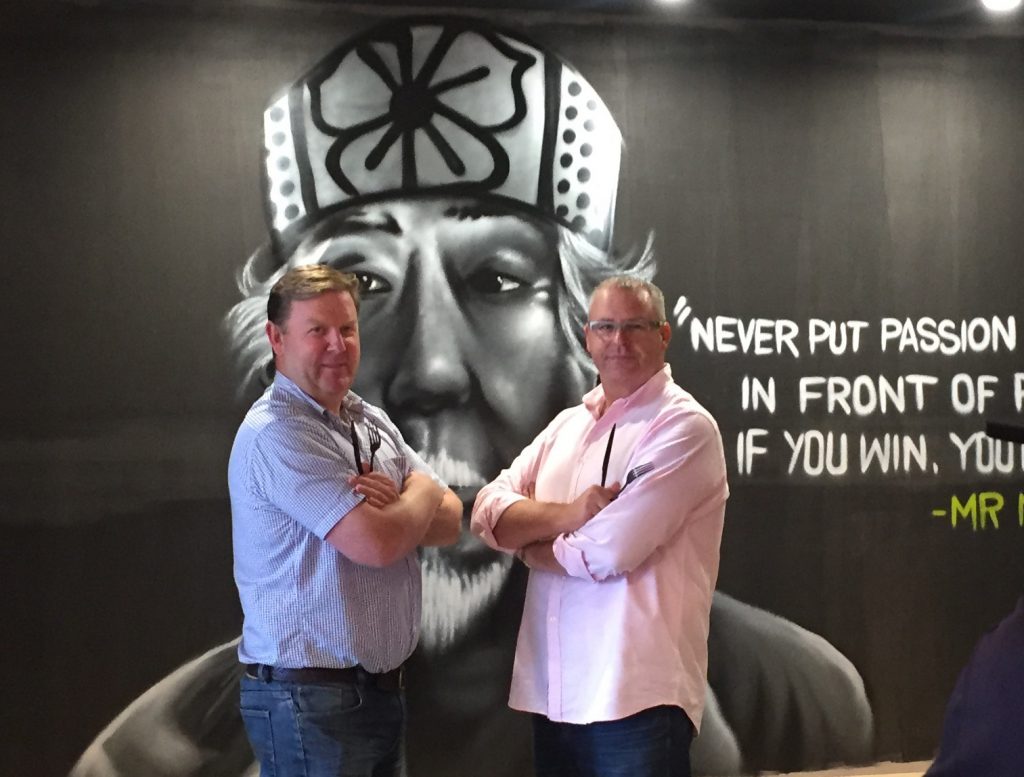 The Wharf Mooloolaba co-owner Dirk Long said the openings signal the beginning of what is a very exciting summer for the precinct.
"We have nearly completed stage two of the revitalisation of The Wharf precinct and we hope everyone will come down to check it out," Mr Long said.
"Some of my fondest memories growing up on the Coast were hanging around The Wharf and I am really looking forward to seeing it return to the bustling precinct it used to be this summer."

Tony Kelly saw that same potential and is excited to be marking his return to the Sunshine Coast restaurant scene at The Wharf Mooloolaba.
"As soon as I saw the site, I knew it was a winner and that's why I am opening two restaurants. Initially, I was just looking for a location for Rice Boi but as soon as I saw the location I couldn't go past putting in a modern take on a Fish and Chippery – Saltwater – as well," Mr Kelly said.
"I have two great really experienced chefs, and equally talented Front of House Managers heading up the teams and I am really excited about bringing everyone fresh local food, all made right here," Mr Kelly said.
Elyza Molloy brings her strong professional focus to the service in what is a grungy, industrial space.
"You can expect my team to be on point.  These guys are passionate about what they do and they are efficient.  You can expect with my team and Mitch's that you are going to have a good time here," Ms Molloy said.
Rice Boi chef Mitch Smith has more than 17-years-experience, having worked in restaurants along the Queensland Coast including at Salsa Bar & Grill in Port Douglas where his passion for Asian food began.
"It's hard to believe but just a year ago I met Tony and now I'm opening my 5th restaurant – Rice Boi – with Tony Kelly and manager Elyza Molloy.
"At Rice Boi, my menu mirrors my love for Asian food and culture.
"Think dumplings, boas and a good selection of curries with everything made in-house – and nothing priced over $20," Mr Smith said.
At Saltwater, chef Wayd Bailey is creating something in complete contrast to Rice Boi.
With more than 15-years-experience, Wayd's resume includes some of the Sunshine Coast's best restaurants including Berardo's Bistro, Miss Moneypenny's, Solbar, La Canteena and Piano Bar – where he worked across a range of cuisines and developed his love of seafood.
"At Saltwater, partnering with Tony Kelly's wife Melissa who will manage the restaurant, I'm focused on delivering the best quality seafood dishes in a casual, yet sophisticated setting," Mr Bailey said.
"Whether people want to enjoy good old-fashioned fish and chips from just $10 per person or freshly shucked oysters, scallops, crab and of course the freshest fish, we will offer the best of Mooloolaba's export quality seafood, without the export price-tag."
The restaurants are part of a $10million refurbishment project for The Wharf precinct.
Dirk Long said, "stage two of the revitalisation will be completed in a week or two, with the opening of another new restaurant, The Dock Mooloolaba, as well as the addition of a pop-up gift shop – Maxwell & Campbell, and other activities for the Summer which we will launch at the Mooloolaba Yacht Club's Christmas Boat Parade on Saturday 16th December.
"Saltwater, Rice Boi and The Dock Mooloolaba as well as the other great dining options already at the precinct including Sea Restaurant, Chances, Hogs Breath Café, and The Wharf Tavern makes The Wharf Mooloolaba the perfect place for lunch or dinner no matter what you are looking for, not to mention the stunning river-front views you get to enjoy while you're here," Mr Long said.
2018 will see a continuation of works with the remainder of the site right up to The Wharf Tavern enjoying a facelift in the first half of next year.  Opportunities exist to lease space with a mix of boutiques, casual dining and services such as barbers, hairdressers and other offerings being sought.
To stay up to date on everything happening at The Wharf Mooloolaba, check out the new website – www.wharfmooloolaba.com.au – and follow The Wharf Mooloolaba on Facebook.  You can also follow Saltwater Fish & Chippery and Rice Boi on Facebook.