Inexpensive drones are offering scientists from the University of the Sunshine Coast a spectacular birds' eye view of migrating humpback whales.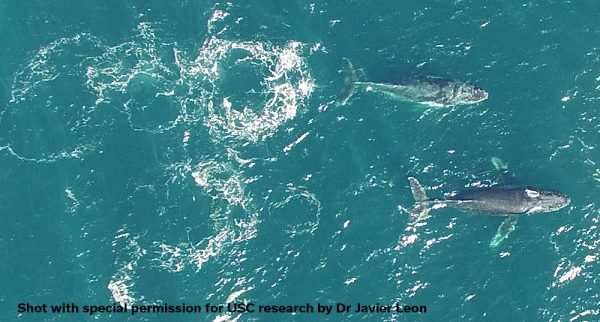 Two times a day, three days a week, researchers are setting sail in a Sunreef tourist boat into the waters off Mooloolaba.
Tourism researcher Dr Vikki Schaffer said the drone was an inexpensive consumer-grade model chosen so that the experiment could be replicated in other areas.
"Drones offer an aerial view that is absolutely changing the game for whale research which, to date, has been challenged because of the logistics around getting close to whales," she said.
"Drones permit us to measure the length of the whales, the way they interact with each other and how they respond to others in the water.
"For example, we have wondered why dolphins join the whales at feeding time and we suspect that it is because milk is being dispersed into the water. This could actually help us confirm what is happening."
Previously, scientists have monitored whales from shore or on boats using binoculars while maintaining the required approach zone of 100 to 300 metres. With a special permission from the Commonwealth Government, our research drones can take images from above, offering the opportunity to collect more accurate information.
She said drones did not seem to disrupt the whales.
Sunreef Mooloolaba owner Dan Hart said his team was thrilled to be assisting USC researchers since they launched their Swim With the Whales Experience in 2014.
"We reserve spots on every boat during the season to make it easier for USC researchers to get out to see the whales and we strongly support all the research they do," he said.
"We are committed to marine conservation and humpback whales are very special to us and we love seeing them every year during their migration."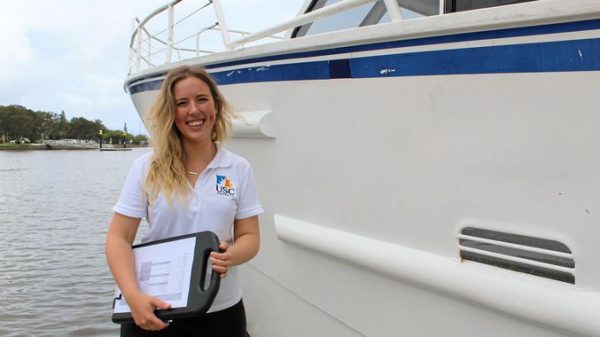 USC Honours student Emily Gregory is using the footage to measure the length and width of the whales to capture data on population health, supervised by Dr Kylie Scales, Dr Javier Leon and Dr Schaffer.
"We remove distortion and calibrate the scale of the images, allowing us to take measurements," Emily said.
"The health of the individual is so important to the population dynamic, reproduction and overall survival. Their capacity to store energy reserves during annual migration is critical."
She said Australia's humpback populations had increased since whaling was banned in the 1970s, but new threats, such as noise pollution, krill farming in the Antarctic and warming seas, were having an impact.
"It's not common knowledge, but whales play a huge role in cleaning our air," Emily said.
"Whale poo cycles important ocean nutrients like nitrogen and iron from the depths to the surface waters. These nutrients sustain plankton populations which, in turn, play an important role in extracting carbon dioxide from the atmosphere. It's all linked."
"There are so many reasons for us to study, appreciate and protect whales," she said.